I'm the author of book "Nuestro dios, el hombre" (See Amazon) and I can't figure out my sales rank. Do you want to help me?
As an author, I have to say that there's not much more puzzling than trying to figure out Amazon sales rank figures. On more than one of teh author mailing lists I'm on, this subject comes up at least twice yearly and results in a flurry of theories and very little actual hard data. Making this more complex, Amazon just recently changed how they calculate sales rank, so you don't have the ability to see the "long tail" sales with ranking over a long period of time.
With your particular book, Nuestro Dios, El Hombre, it appears that the basic problem is that while it has one five-star review, no-one's ever bought a copy through Amazon. As a result, your sales rank is "none":

This is rather interesting as I haven't seen it before, to be honest. My book
Wicked Cool Shell Scripts
, by comparison, has the following product details: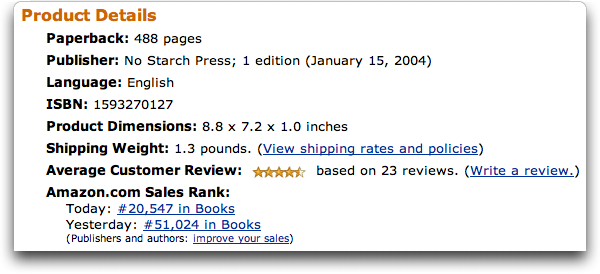 You can see that my sales rank is in the ten-thousands, not too bad considering the millions of books in Amazon's catalog, but notice that sales rank varies based on what kind of "calculation window" they use: today's value is 20,547, while yesterdays rank was 51,024. Not bad. But perhaps this is the difference between one sale and two sales, there's no way to know.
Which leads to something that I've realized: worrying about your Amazon sales rank is pointless because we have no way of knowing the basis of their calculation. It's like being obsessed with your Google search engine placement results (SERP): since we don't know the actual formula that Google uses, the best way to get a good placement is to turn your back on the formula entirely and simply produce the best possible content.
Similarly, use the actual sales figures from your publisher as the only accurate gauge of your actual book sales, and put your effort into promoting your book online and offline, as appropriate, rather than worrying about Amazon sales figures. In the long run, it'll be a much better – and hopefully more profitable – use of your time.
I hope this helps clarify what's going on with your book at Amazon. Good luck to you!