I've been blogging for a while now and am having a good time, but I'm now a bit puzzled about how to expand into the next wave of content: video. Specifically, I bump into funny or informative videos on Google Video but have no idea whether I can embed it on my own page and if I can, how to do that. Can you offer some pointers?
By coincidence, I faced the same dilemma just a few days ago myself. A video of one of my blogging talks, at the Affiliate Summit, was uploaded to Google Video and I really wanted to include on my own weblog, but since I hadn't spent any time with Google Video prior, had no idea how to proceed. Fortunately, Google did its usual good job of making it pretty clear.
Let me step you through how I add the video itself to this very Web page and I think you'll see how you can do the same on your own blog entry or Web page.
First off, I searched for my name to find the video, which comes up as video.google.com/videoplay?docid= followed by some long, incomprehensible numeric value. Okay, I can click on that and get to the page that includes the actual video.
On that page, to the right, is where people can rate the video, add tags, and, most importantly, obtain the code to include the video on their own page:


Notice the button in the middle labeled "Email – Blog – Post to MySpace". Click on it and a small additional set of options appears:


The link you want – unless you have Blogger, MySpace or similar — is "Embed HTML", which opens up yet another little box: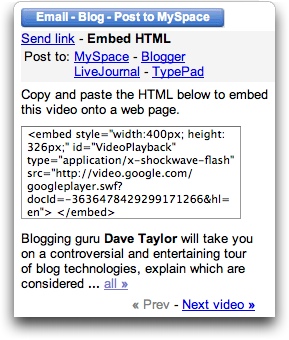 The material in the little text box is what you need to copy. It looks like this when pulled out:
<embed style="width:400px; height:326px;" id="VideoPlayback" type="application/x-shockwave-flash"
src="http://video.google.com/googleplayer.swf?docId=-3636478429299171266&hl=en"></embed>
and when we actually make it active HTML code, here's what happens:


That's all there is to it. Hope that helps you get rolling!