Dave, help! How do I download the music already on my computer to my creative zen mp3 player?
According to Creative Labs, you should either be using the Creative Media Explorer if you are new to MP3 and WMA ripping and want to build up a library or prefer to manage your Zen player as a removable disk drive, or using the Creative MediaSource Player/Organizer if you "frequently need to playback or organize music in your computer".
Neither really makes much sense to me, but both of these programs have the key essential capability that you need: to open up your existing audio files and copy them or sync them with your Creative Zen player.
The Zen player can handle three primary types of audio files too, the common MP3 format, WMA format and the more unusual WAV format. It's quite likely that your existing audio files are in one of these formats, probably WMA if you've been using Windows Media Player to rip your CDs. If you've purchased your music, it'll be in WMA DRM, that is, a version of the WMA format that includes digital rights management (so you can't just email a copy of the audio file to your pals once you've purchased and downloaded it). Those can play on the Creative Zen too, fortunately.
To actually hook up your Creative Zen MP3 player to your computer, you'll need the included USB cable, which should connect as shown in this spiffo Creative illustration: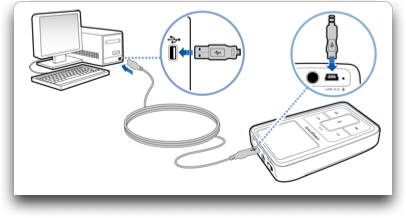 Once you've hooked it up, the Zen unit should automatically go into USB connection mode (wouldn't be very zen-like if it didn't!) and then you should be able to find the device by opening up
My Computer
on your desktop.
When you really dig into the Zen user's guides, you'll find that they recommend
Creative Media Explorer
for transfering audio files: just click on the "Import Media" button in the application, find the MP3, WAV or WMA files already on your computer, and it should be darn easy to then copy them onto the player.
That should get you going. If you find that your audio files are in a format other than MP3, WMA or WAV, you might need to check out my
audio conversion tips
. Otherwise, this should get you going!
Good luck.