I have a friend who turns out to be a real jerk and I really want to get rid of his comment on my MySpace account. I seem to recall that when someone initially leaves a comment I can choose whether to accept it or not, but can I delete it now, months later, so I don't have to see this guy's face every time?
Sorry to hear that your relationship with this guy soured, but, well, it happens. Alas.
MySpace is pretty easy about changing your profile to match the changes in your life, fortunately, so let me show you how to delete this chap's comment and you can promptly get rid of him.
Log in to your account, then click on Edit Profile. On the top right you'll see four choices: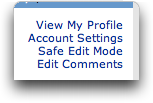 As you might imagine, you need to click on
Edit Comments
, which will show you a list of all the comments people have left for you in newest-to-oldest order: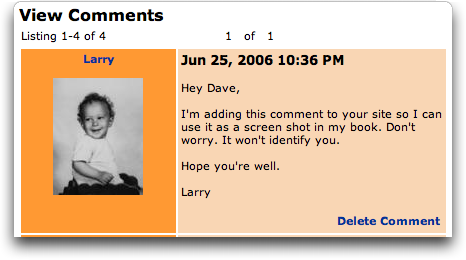 I only have four comments, and the newest of which is from a friend of mine who is writing a book about MySpace safety, actually, as you can see.
To delete a specific comment, just click on the
Delete Comment
link and it'll be done. Quickly and easily.
Hope that helps you clean up your comments.