I'm not using Aol, i'm using Aim. How do I delete my AIM screenname from the AIM program and system?
Believe it or not, you cannot delete AIM screen names from the America Online (AOL) computer system. AOL says this in their help system: "Q: Can I delete one of my old AIM screen names? A: No, you cannot delete old AIM screen names at this time."
They do offer useful advice on ensuring that others cannot find your screenname, however. Let me show you both the Mac and PC solutions, Mac first:
Start up AIM and then click on AIM –> Edit Profile and make sure that it's blank: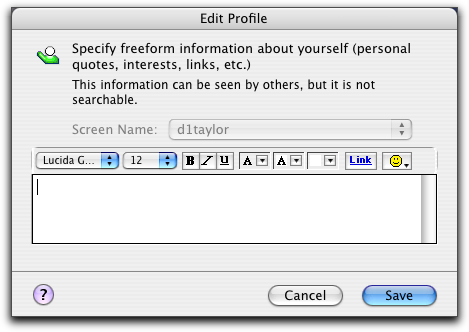 On the PC, you'll want to do something a bit different. You'll need to go to
Edit
–>
Edit My Contact Info…
. Hopefully, you'll see this: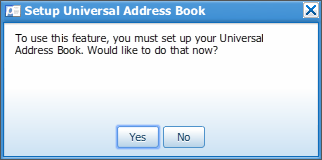 You'll notice that it's not an issue for me because I refuse to set up my address book "powered by Plaxo" and am pretty appalled that AOL made the decision to take something simple and make it so darn complex. My advice: You shouldn't set up your Plaxo address book either. If you haven't, you're in good shape and that screen name should be impossible to find.
If you're running earlier versions of AIM, then your Mac instructions might be thus:
Edit
–>
Preferences
, then click on the
Controls
tab and choose "Nothing About Me". Older Windows versions of AIM have a similar preference you can specify by going to
My Options
–>
Edit Preferences
, then click on the
Controls
tab.
That should make the undesired AIM screen name it essentially invisible.
Another step you might want to take is to delete that screen name from your AIM program itself. According to AOL, you can do that in Windows by selecting the screenname and pressing the DELETE key. On a Mac you should be able to choose "Delete Name…" from the screen name drop-down list: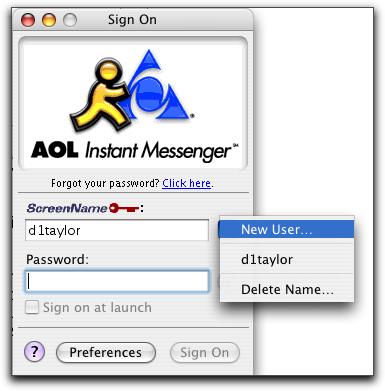 It's still rather amazing to me that you can't just delete AIM screen names properly, even with the latest version of AIM, but I presume there's some logical explanation. We just don't know what it is. 🙂