Dave, I've noticed that you write about Gmail a lot, but I'm hoping you can help me out with an MSN Hotmail question too: I've had an account on Hotmail for a long time and would like to be able to have messages from specific mailing lists automatically filed in different folders, rather than jammed into my inbox. Is that doable, and if so, how?
I admit, I have two Hotmail accounts, a Yahoo Mail account, and, for that matter, two Gmail accounts too, now that I think about it. Each has its uses and each offers capabilities that the others don't. Further, my Hotmail accounts have been around for years and years, like yours, so I know exactly what you're talking about!
While it's not easy to figure out, you can indeed do quite a bit of customization to your Hotmail account. Let's focus on identifying messages from a specific mailing list and filing them into a new folder as a way of giving you the hang of working with Hotmail's configuration options.
To start, log in to your MSN Hotmail account and click on the "MAIL" tab so that you're looking at your inbox. With me?
The first step required is to create a new folder. I'm going to assume that you're talking about my ADT-News mailing list (which you can sign up for by entering your email addr in the "Updates via Email" box on the right side of this very Web page. Darn convenient, eh?), so let's create a folder called "ADTNEWS". To accomplish this task, don't click on the manage folders link (even though it seems that should work) but rather click on the put in folder option along the top, then choose "New Folder" from that list of options.
Hotmail asks you for the new folder name. Type in "ADTNEWS" and choose "OK". You'll go back to your inbox, but on the left side there's now a new folder displayed. Cool!
Folder's created, now it's time to set up the mail filter. Choose the Options link on the top right of the window, make sure you're in the MAIL tab on the left (yes, the MSN Hotmail interface could do with some fine-tuning!) and then choose Custom Filters from the options shown. Click on the New Filter button.
Now you'll see something similar to this: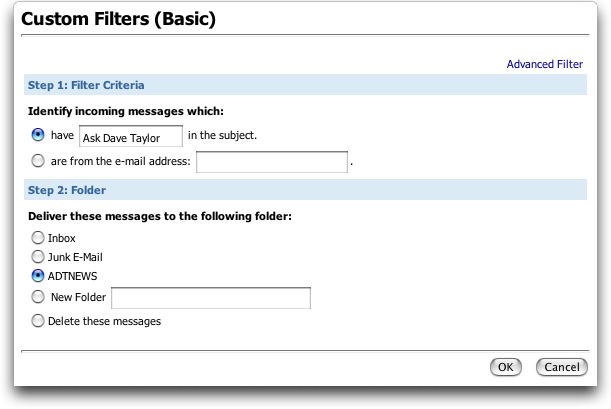 Eagle-eyed readers will notice that we could have created the new folder as part of this filter creation process, but I figure that it's good to know how to create new folders separate from working with filters, hence the longer set of instructions here.
As shown in the screenshot, specify a pattern that'll match the messages in question — in this case Ask Dave Taylor — then specify what to do with them automatically: Deliver these messages to ADTNEWS.
That's all there is to it. From this point on, any messages with the matching subject (or From) pattern will automatically be placed in the specified folder.