Dave, I've read through your previous Q&A about how to create an AOL screen name, but it doesn't apply to the new AOL 9.0 Security Edition. Can you help me figure out how to add a screen name with this latest Windows application?
You're absolutely right. In typical update fashion, the AOL development team have fiddled with what menus lead to what features and made it either easier or harder to find your overall AOL preferences, depending on how you look at it, making my article on How to create new screen names on AOL obsolete.
To get to the screen name feature in AOL 9.0, forget all the menu options and instead just click on Settings in the AOL toolbar: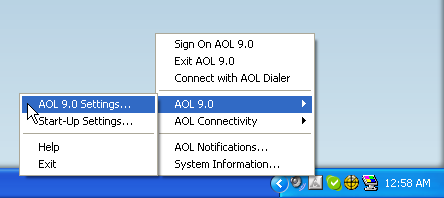 Once you've clicked on that, you'll get a large list of different areas you can modify (really, it's a staggeringly large list, far more than any user, even the most dedicated AOLer, is going to modify. But that's another story entirely):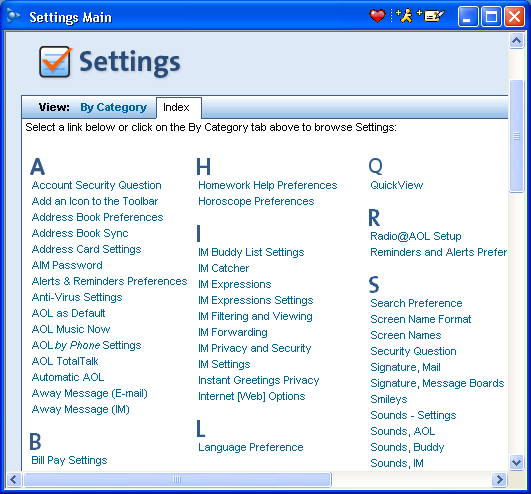 The option you want is
Screen Names
. Click on it and you'll be at the main screen names area, with options to CREATE a screen name, DELETE a screen name, format a screen name, restore a screen name, and even spawn a new account with one of the existing screen names if you're so inclined: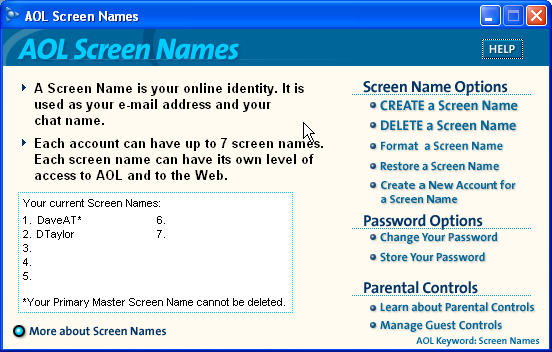 Needless to say, click on "Create a screen name" here and the first thing you'll see, something that is one reason I
like
AOL, is the following:
Other companies like
Earthlink
also have parental controls, but most ISPs just ignore the whole affair, making it darn hard for technically unsophisticated parents to help minimize the chance of their children bumping into the, um, less savory corners of the Internet.
Anyway, I'm going to assume you're setting up a new screen name for an adult, not a child, and click
No
on this screen.
The next step is the most fun: what screen name do you want to create? AOL has
millions
of users, though, so it's rare that you can get a cool screen name. It certainly seems like all the good ones are taken!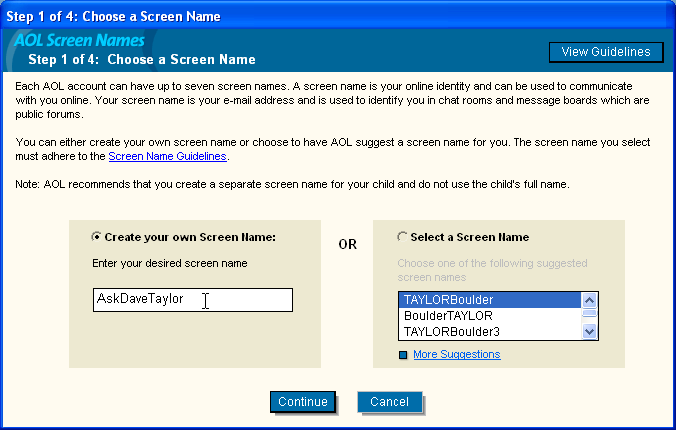 Amazingly,
AskDaveTaylor
is available. The next step is to enter a password, which is pretty easy to do. Remember, a mix of upper and lower case letters, a digit or two and even some punctuation can make a great password.
Next, even though I already said I was creating the screen name for an adult, AOL gives me a second chance to categorize what kind of default limits I want on the account. If you've never used America Online, you'll find this screenshot particularly interesting:
Finally, once you've decided what kind of account you want to create, you're done. Close up all the windows and log out. You should be able to log in with your brand new screen name!
Hope that helps you out with America Online. It might not be the snazziest, but with the addition of its automatic spyware checks, antivirus utility and pop-up blocker, it remains a surprisingly relevant alternative method of traveling on the Internet for a lot of people.
Additional helpful AOL tutorials:
•
Get rid of AOL popup ads!
•
How to delete an AOL screen name
•
How to change your AOL account password
•
How to cancel your AOL account