I read a ton of blogs every day and sometimes I see a video from YouTube that someone's included on their entry. I know how to do that [see Add YouTube Video to your Blog for a tutorial] but how do I easily copy a video from one page to another?
By a good coincidence of timing, I just now read an amusing article on Gizmodo about what will undoubtedly be the big toy of the upcoming Christmas season: TMX Elmo, the second generation of the popular "Tickle-Me Elmo". In typical Gizmodo fashion, the snarky headline is Clips: TMX Elmo in Action, Because You'll Never Own One.
Be that as it may, their page includes an embedded video, as you can see here: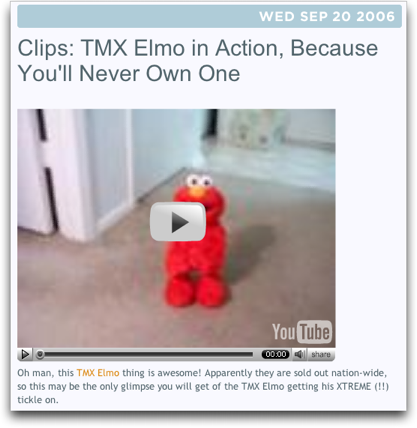 Notice the "share" on the lower right corner of the video window itself?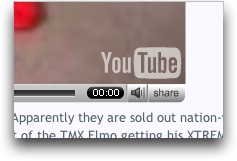 You'd think that would be how you could easily get to the video's URL or similar, but when you click on it you'll see that it's just to make it simple to email the video to someone else. There's no "blog this" or similar that would show the Embed and URL values for this video on that screen (which seems like an oversight in their design, actually):
Not what we want at all. Instead, we need to actually go to the home page of this particular video on YouTube, which is done ridiculously easily by clicking
anywhere on the video itself other than the initial play button
.
You then go to
the video's home page
and can grab the needed
Embed
value right out of the "About This Video" box.
I did just that and here's the video, in all its amusing TMX Elmo glory:
Now you've seen it, are you ready to buy one for your child? I think it'd quickly drive me batty… 🙂