Alright, Dave. I'm darn frustrated. My husband and I both have Macs and he also has an iPod — that I bought him! — but when I plug his iPod into my Mac, I can see the music in iTunes and can even listen to it, but I can't copy it into my own iTunes library. What's wrong, and how do I fix it?
Actually, this is a common problem with iPods, believe it or not, even those where you buy a new computer and want to "pair" your iPod with your new computer: by design, Apple iPods bond with a single Macintosh or PC, and every other computer is then only granted "read only" access, just as you've found.
The fact that it's your music and you probably have all the CDs sitting on the shelf (like we do) is irrelevant as far as Apple is concerned.
Fortunately, there are third-party workarounds for this copy protection design aspect of the otherwise splendid iPod players. If you were on a PC, I'd point you to a slick Windows application called iPodCopy, as I explain in my article How do I get songs off my iPod, but since you're on a Mac, I'm going to recommend a different program, one that's freeware, not shareware.
The program I use when trying to sync music between my iPods and computers (and, yes, my wife's computer too) is Senuti. It's free, which is splendid, but I nonetheless highly encourage you to donate a few bucks to support the developer if you find this app useful, as I'm sure you will.
Download the application, plug in your husband's iPod, then launch. You'll see something like this: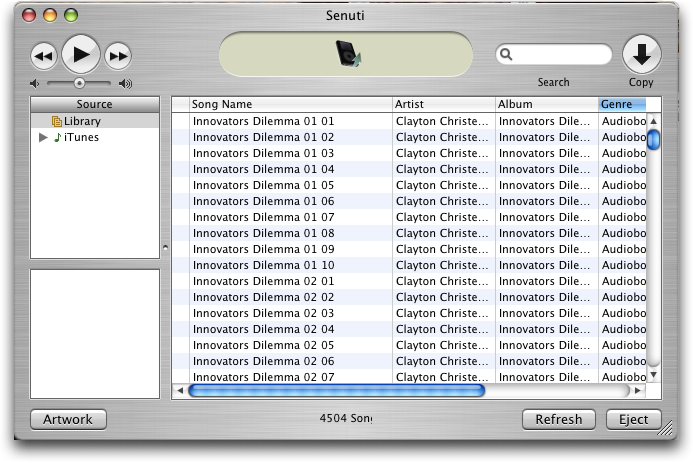 Notice that in this instance, I have a lot of audio books. Your list will doubtless differ. On the top left you'll see that the iPod itself is shown as "Library" while the iTunes library on the computer is shown as "iTunes". I found this a bit confusing and kinda wish that the iPod was listed by name, but it's an easy oddity to get used to.
A much more important step with Senuti is that you must change the preferences in the program to behave as desired. For reasons I'm unclear about, the defaults aren't close to what I would think people copying music from an iPod into iTunes would want. Here are the default settings: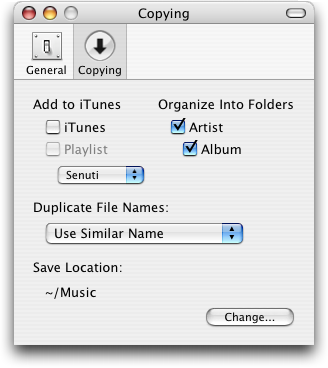 and here are the changes I suggest you make: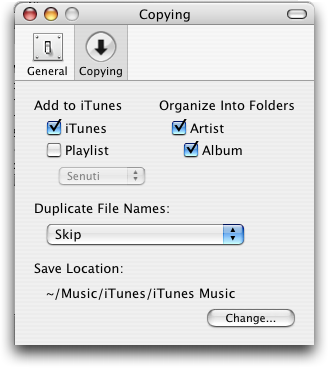 Notice that I have also specified that copied music should be saved directly in the iTunes Music Library along with anything else ripped from CDs, so it's all neat and organized.
Now it's about as easy as it could be: pick the music you'd like to copy onto your computer and either just click the "Copy" button on the top right or drag it all onto the "iTunes" icon on the top left list and let Senuti do all the heavy lifting.
Here's what it looked like partway through copying some of my Celtic music onto my wife's computer:


At this point I found it easiest to simply quit iTunes and restart the program, so it saw all the new music in the library: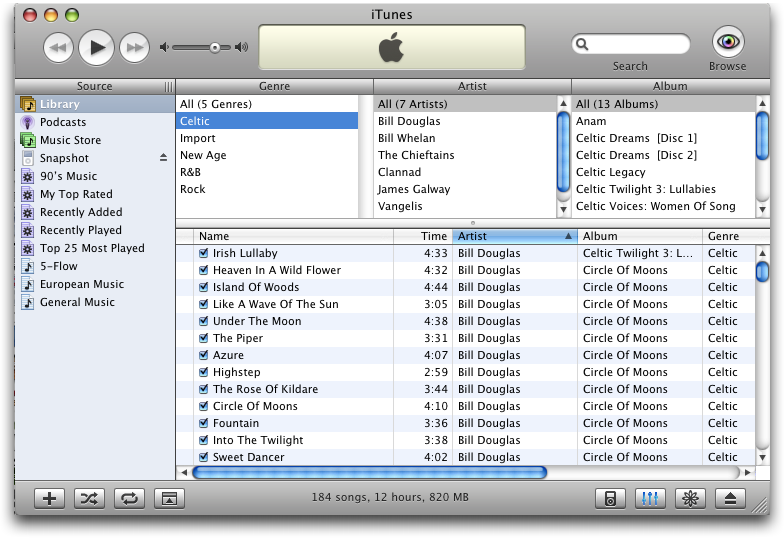 Very nice, simple and straightforward, once you adjust the preferences as needed.
I think that'll help you and your husband more easily share music between your computers. Good luck!