Please, please, please help me! I saw a question you answered earlier about how to: Convert WMA from Windows Media Player into MP3 files? Now, I know you know how to convert WMA files to MP3 files, but do you know how to convert MP3 files to WMA files? Please help me, you would be my hero! You are my last hope!
Well, I can't resist trying to help someone who is at the very end of their proverbial rope, so I pulled a few sample MP3 flies out of my Windows Media Player library and dropped them onto my desktop to see what I could figure out.
Then I went to Download.com and searched for "mp3 wma" to see what it would show avaliable for download, and scored! The application Free MP3 WMA Converter looked quite promising, so I downloaded it and installed it on my Windows XP system. (Tip: if the above link doesn't work for grabbing a copy of the program yourself, you can always go to the developer's Web site). Want something more robust? Try the 24/7 supported application Smart Audio Converter. Either way, the process shown here is basically identical.
During the install process, it complained about the lack of some WMA codec libraries, but I indicated that I was okay with it installing those during the process and everything went swimmingly. I then launched the program and dragged my three test songs into it (Big Swing Face by Bruce Hornsby, I Wouldn't Want To Be Like You by Alan Parsons, and Army Dreamers by Kate Bush). It looked like this: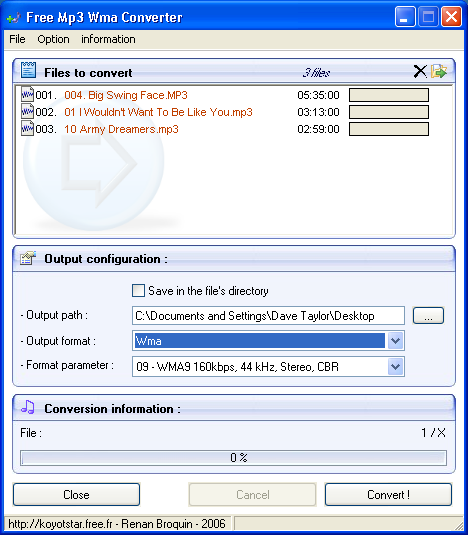 Once I'd added all three, I then changed the settings to specify where I wanted the output files saved (I've opted for my Desktop), what format to use (WMA) and then let it default to the correct WMA settings.
Finally, ready to go, I clicked on the "Convert!" button: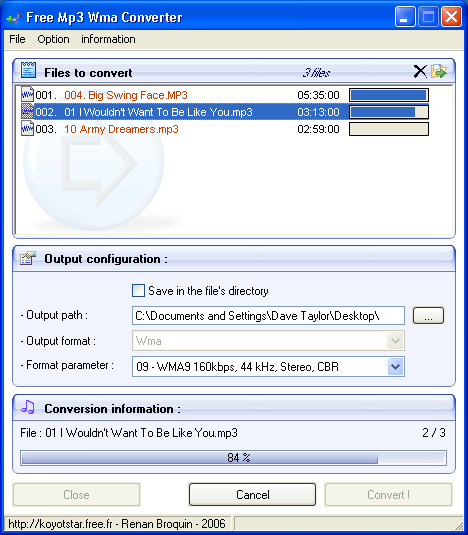 Notice on the bottom the progress bar shows that we're almost done, 84% through the conversion process. It took just a few seconds per track to convert all three to WMA format.
The final test? I opened up the WMA version of
Army Dreamers
in Microsoft's Windows Media Player and it played perfectly:


A straightforward process and a very nice application, especially for free.