How can I copy a DVD from my G4 powerbook (I have pocketmac pro) to my I-mate Jam phone which uses windows Pocket PC? I'm familiar with Mac the Ripper but I don't know how I can convert the files to ones that my phone can read, I'm really confused regarding what mp4 setting to use (most available softwares are for ipod conversion eg. MovieToGo)
That's a tough question, actually, but digging around I did find a reference that the movies you make on the iMate JAM phone are in 320 x 240 resolution, which suggests that's the resolution you should use when you convert your DVD movies for the phone too.
If you're using Mac The Ripper then you might well have already seen my article on Copying DVDs to your Sony PSP. In that instance I use a software program written specifically for the Sony PSP after I finish up with MacTheRipper, but it turns out that there are a lot of different programs available that can reformat and resize video streams once you have an unprotected copy, including the commercial application Roxio Toast.
Personally, I try to start with a shareware application called ffmpegX, which has lots of different conversions it can accomplish.
Indeed, as you can see from this screen shot, the "PSP" default for video conversion looks like a perfect match, with its 320×240 resolution video conversion: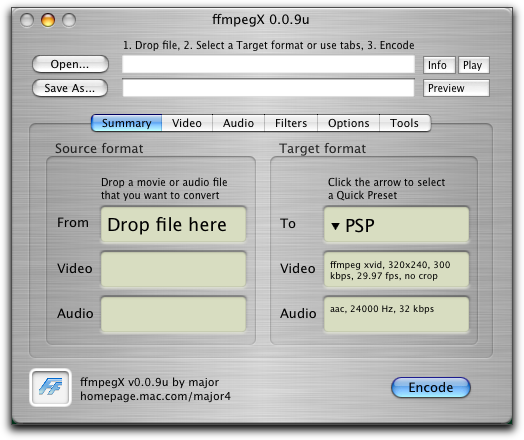 Hope that helps you get going. Now you'll just have to worry about how much memory your iMate JAM has.