I'm darn concerned! Every time I start up my Apple Safari browser, I find that the program has remembered every search I've done, whether from the Google search box or when I'm actually on the Google home page. What the heck? How can I disable this "feature" and regain my privacy?
You're not the first person to be concerned about the extraordinary memory that a Web browser has in terms of search fields, the Google toolbar box, and similar.
There's a privacy issue involved, as you surmise, but there's also a convenience factor, and it's that tradeoff that makes it hard to just say "this shouldn't happen". Then again, a lot of teens have found out the hard way that mom or dad can easily ascertain what they've been searching for on the 'net by checking this recent search box.
(but then again, most teens are darn tech savvy and probably already know to go into private browsing mode or otherwise delete the search cache)
When I glance at the Google box in my version of Safari (that I'm using to write this very blog entry), I find all sorts of previous searches, as you can see:
Notice the very last entry, however: "Clear Recent Searches". That'll solve that particular problem (earlier versions of Safari might not have that feature, however, in which case it's yet
another
reason to consider upgrading to the very latest version of Mac OS X).
On the other hand, when I go to the Google home page, you'd think I'd be safe, right? But watch what happens if I type in an 'm' to the search box and wait just a fraction of a second: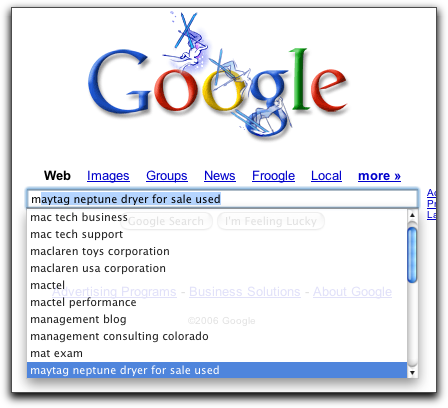 You might jump to the conclusion that Google knows all, but in fact it's not Google offering this autocompletion / history service, but your Web browser. Yes, that's another feature of Safari.
To clear this you need to tweak your Autofill preferences. Go to Safari –> Preferences and click on the Autofill tab. You'll see this: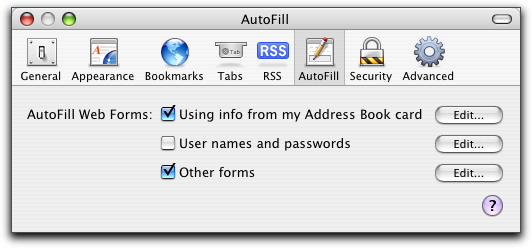 It's the "Other forms" that you want to check out. Click on "Edit…" next to that field and you'll find a long list of different domain names that have forms your browser is sneakily tracking:
You can see that I've highlighted "google.com": to clear my Google search cache history from Safari, all I'd need to do is select "google.com" and press the "Remove" button. Or, if you want to clear all your cache, choose "Remove All".
Easily done.
One more step: Your browser also has a cache (history) of actual pages you visit. If you want to get rid of those too, then you can't be selective, you'll have to erase all of your browser cache. That can be pretty easily done by choosing Safari –> Clear Cache….
You'll get a warning dialog, as usual:
Proceed with this action and you should be clear.
Having explained all of this,, I'd also like to draw your attention to the darn useful Private Browsing capability of Safari. Simply choose Safari –> Private Browsing.
You'll get a warning dialog that pretty much tells you what will happen:
Cool feature, eh? Makes worrying about histories, caches, and similar all moot.
I'd recommend you clear your old cache through the methods outlined above, then remember to switch to Private Browsing whenever you want to explore the net without leaving any sort of trail behind you.
Tip: If you're trying to duplicate this on your PC, I strongly encourage you to read the terrific writeup that my pal Leo Notenboom has on his site: How to delete history items from your Google toolbar.