I don't know if something's wrong, but suddenly my PSP has a different background color than it did a few days ago. Do I have some sort of virus or something? How can I change it back to the green I liked so much?
Nothing's wrong with your Sony Playstation Portable (PSP) unit, take a deep breath. 🙂
The earlier PSP units had software (called "firmware") that automatically changed the theme at the beginning of a month, so what probably happened is that you played the PSP last in January, and now at the very beginning of February, it's switched.
If you update your PSP's firmware (see referenced articles, below) you'll find that you can easily change the background color to anything you want, any time you want. Do this:
Click on the Home button until you're seeing the little navigational icons, then move left to Settings and then up or down until you find Theme Settings: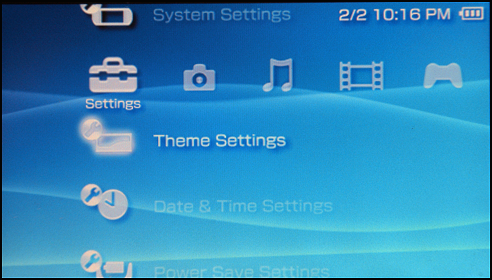 Chose this option by pressing the "X" button on the PSP and you'll get to the options under Theme Settings:
Press the "X" button again, and all of a sudden you can see all the different theme colors available on the PSP! Move up or down to see how they look. Here I'm checking out green, which is probably the color you like so much:
Personally, I like the darker blue, so that's what I'll stick with.
Hope that clears things up!
Additional Reading:
  •  
Upgrade your PSP firmware with a wireless wifi connection
  •  
Upgrade your PSP firmware without a wireless wifi connection