I want to change my account password on America Online (AOL) but am pretty clueless about how to do that. Can you show me? Thanks, Dave.
It's pretty easy when you remember that America Online (AOL) still has its old "keywords" system in addition to everything else on the new, fancy AOL system. To change your password, you basically just enter the "password" keyword and go from there.
But let me show you step-by-step so you can see how it works.
First off, to enter a keyword, choose "Go To Keyword" from the "Keyword" menu (I'm running AOL 9.0 Security Edition, but older versions have this identical option):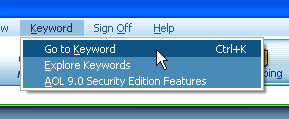 It'll pop up a little window asking what keyword you want to learn more about, and type in "password":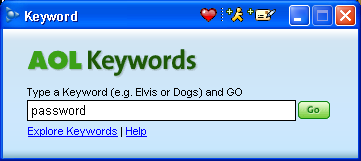 Click "Go" and you'll instantly know that you're traveling in the right direction: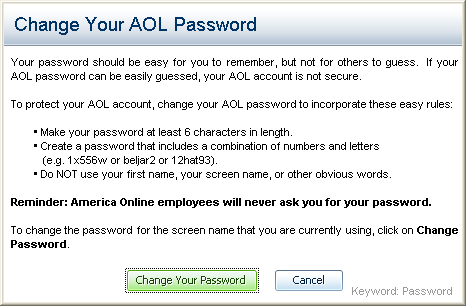 Pay particular attention to the hints about a good, hard to guess password. Using your girlfriend/boyfriend's name, the name of your dog, or even the street you live on isn't going to keep your friends out from your account, and that can be a disaster!
When you've picked out a good password, click on "Change Your Password" and you'll see: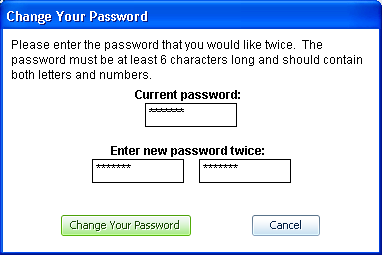 Notice that you have to enter your existing password for this to work too. That's good, because you don't want someone to change your password and trick you while you've gone to the bathroom or popped into the kitchen to grab a cup of tea! 🙂
Enter your new password twice and if it's a good password and the two match, you'll be greeted with the cheery:



As it says, don't forget that if you store your account password for automatic login, you'll need to change that too. You can either follow its suggestion, or you can simply wait until the next time you try to autologin: it'll fail and then you can re-enter your password, updating it to the new one.
Finally, if you want to change the password of your
master screenname
please note that there's nothing different about the process. Log in as the master screenname and follow these same steps exactly.
Good luck!