Since the Kindle makes it easy for kids to go onto the app store and get new games, and since it's pretty darn easy to go online and visit Web sites too, I like to constrain my children's use of my Kindle Fire to just when I'm around. But now they've figured out my security code. Darn it! How do I change it?
There are two ways you can deal with this. The first is to block the Kindle entirely, which I'll show in a bit, but the second possibility is to simply use the parental controls to lock the system down so that the only thing your kids could do is read books on the device. No Internet access, no app store, no apps. Just ebooks.
It's important to note that the earlier generation of the Kindle operating system (or "firmware") didn't have much in the way of parental controls, so unless you have a new Kindle Fire HD, Kindle Fire, paperwhite, or similar more recent device, you might be out of luck with the better parental controls.
Of course, regardless of which Kindle you have, setting an unguessable password is an easy solution to regain control of the system, so let's have a look at just how that can be accomplished.
In fact, it's easy. Pull down the top system menu (drag your finger from the top edge), then tap on the "+" symbol for all settings. It looks like this: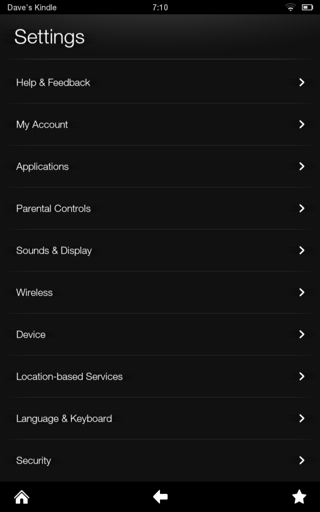 Tap on "Security" at the bottom of the list and you'll see a number of options from which you can choose:
Tap on "Change Password", enter your current PIN, then set it to whatever you'd like, something long and complicated: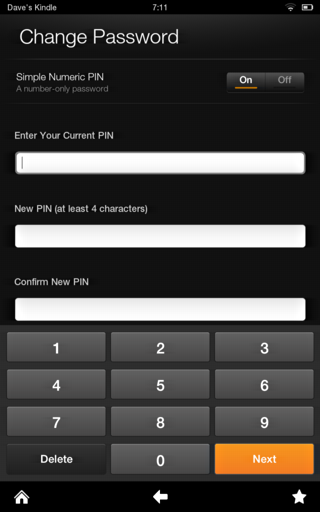 There is a wee bit of confusion here, tho: it says "at least 4 characters" but in fact you can only enter numbers. Unless at the top you
disable
the simple numeric PIN. Do that, and you can use something far more complex: a sequence of letters and digits, like the name of your favorite musician or film star.
Hope that helps out. And stay tuned, I'll be posting a detailed article about how to fine tune Kindle parental controls to allow ebooks but nothing else…