How do i change my password on my Mac OS X system, Dave? I looked when I was logging in and didn't see any sort of button or configuration option!
This is an easy task once you know where Apple stores this sort of data. To change your account password, you need to go to the "Apple menu" and choose System Preferences…, then click on the Accounts button. You'll see this:

You should be able to click on "Change Password" directly, but if you can't get to your account or the change password option is grayed out or unclickable, you'll need to "unlock" or verify your administrative access capabilities by clicking on the little padlock on the lower left and typing in your
administrative
password (the password to the admin account, not necessarily your current account). It'll look like this: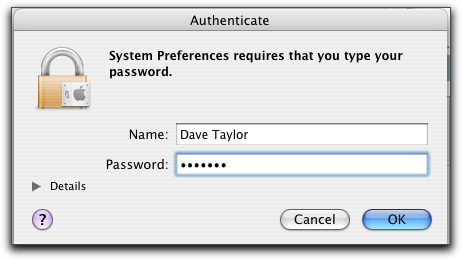 Once you've unlocked it, click on "Change Password" and you'll see this:
Enter your existing password for verification, enter your new password twice, and add a hint if you'd like.
Done!