This may seem naive, but – a friend of mine cut off her yahoo personals some months before meeting a significant other. She continued to recive Yahoo personals alert on her email, even after she was no longer a member, she was still appearing on their site (sans picture) even though inactive and told that she would be removed after 3 months. She managed to finally get herself removed but continued to receive alerts for replies to her profile. WHAT GIVES WITH THOSE GUYS – How do you escape their clutches??
Fairly straightforward answer: according to the Yahoo Personals help site, you need to do the following:
If you would like to delete your Yahoo! Personals profile, please visit:
Personals.Yahoo.Com
You may need to sign in using your Yahoo! ID and password.
When you get there, you'll need to click on Edit Profile then Delete your profile on the upper right hand side of the page. You should be able to get the same functionality by clicking on this link: Delete your Yahoo Personals profile.
Here's where I think your friend might have gotten tripped up, though:
"If you have a profile posted, deleting your profile will not cancel your subscription. If you would like to cancel your subscription, please click on the "Billing Info" link located on the home page."
Your friend should also change their privacy settings on their Personals account, if they can, to make sure their profile isn't searchable: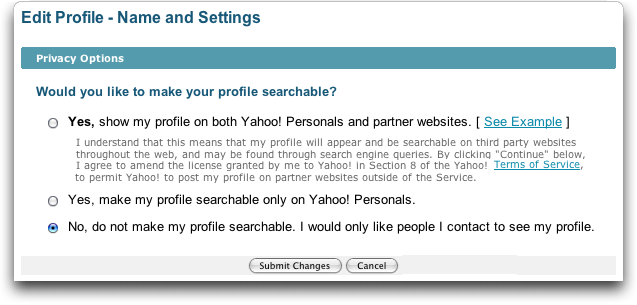 See the option I chose here? You'd want to, um, I mean your "friend" would want to choose the same.
Good luck!