After the recent 25+ hour outage on the Tumblr site, thousands of bloggers had a chance to think about what it would be like to lose everything on their site, all their entries, all the comments that others have left, all the effort and work. Gone. Fortunately Tumblr came back up after fixing its database problems, but imagine if it hadn't, or had to back up a few weeks — or longer! — to get things working. This leads to the obvious question: Can you backup, save or archive your Tumblr blog? Turns out, you can…
To find out exactly how to do this, I tapped frequent contributor Zack Shapiro to help out, since he has a Tumblr blog of his own. Here's what he shared…
A lot has been said about Tumblr's recent downtime. Regardless of your feelings about the blogging site being temporarily out of service, you should be safe back up your data. Data backup is something that gets harped on a lot but few people take it seriously until they're a victim.
Here are the steps I've used to backup my own Tumblr blog.
First things first, you'll need to go to the Tumblr blog and grab a copy of the Tumblr Backup utility. Do so by clicking this: http://staff.tumblr.com/post/286303145/tumblr-backup-mac-beta:


Once you've downloaded it, enter your password and select the blog you want to backup: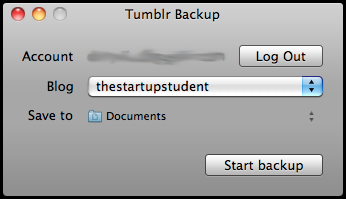 Click on "Start Backup" and it moves fairly quickly: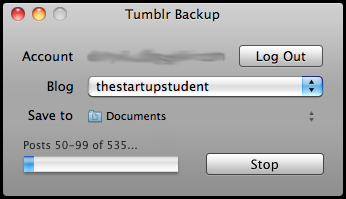 In a few minutes all of your Tumblelog's data should be safely stored on your harddrive, ready to fight another day (or more downtime)!
It's also worth noting in closing that other options exist for Linux users (
tumblr-backup
) and Internet users as a whole (
tumblr_backup.php
).
Zack is a senior at the University of Colorado at Boulder. He runs an iPhone development company,
59thirty
, and is currently working on a stealthy startup. You can find him blogging on
The Startup Student
or on Twitter as
@ZackShapiro
.