I have a new Apple iPod Video and have been really enjoying its music capabilities, but I'd also like to add some pictures to its photo album from my PC. But I'm darned if I can figure out how the heck to do that! There's nothing vaguely photo-related in iTunes and I'm stumped. Help!
While the iPod is a great music player, I have to agree that using iTunes to manage photos and video is pretty awkward. I too have struggled with this when trying to figure out how to add photographs to my own Apple iPod 5G (that is, iPod Video), and finally figured it out.
The first step is to hook up the iPod to your Windows PC and start up iTunes. Your iPod will show up on the left side after a few seconds and you'll want to click on it. It'll look like this: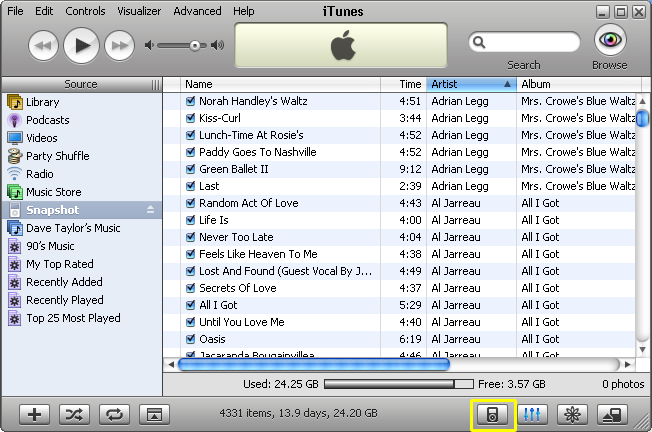 On the lower right there's a cluster of four buttons: you want to click on the leftmost of them, the iPod Options button. I've highlighted it above. When you click on it, you'll see a set of options. Choose the "Photos" subtab:
You can see how to get the photos onto your iPod from here, I bet. Choose to synchronize with either your My Photos directory or a specific subfolder therein:
Click on "Okay" and a few seconds later iTunes will show you that it's plugging away adding content to the iPod. Interestingly, it automatically reformats the images to have them look maximally attractive on the iPod as it goes:

That's how you add photos to your iPod. But how you later delete ones you don't want? That I have no idea how to accomplish and it's not mentioned at all in the iPod documentation either, interestingly! Anyone have a clue?