I signed up for MySpace after hearing so much about it, but I have to say that I'm not sure how to proceed. My biggest question: I want to invite some friends to join but I don't know how to do that. Can you show me how to do that, please?
Actually, I'm surprised you're having a tough time of it. I don't think that MySpace is the best designed site on the net, but it's fairly straightforward to figure out how to get around nonetheless.
To invite your friends to join the MySpace community, log in to your account and click on the Invite link on the top navbar:


Now you'll be able to specify the email address of your friend or friends and enter an optional message: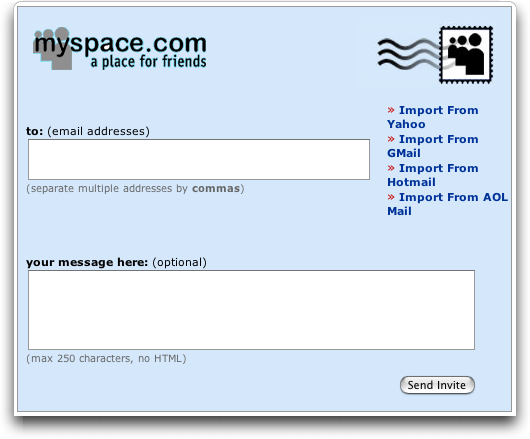 You can enter an address and no personalized message, in which case MySpace sends a long email to each address you've specified that includes a "Dave says…" (or your name, obviously) and a blank section, but otherwise it's a pretty good message:
---
Dave is a member of MySpace and is inviting you to join.
Dave Says:
Join MySpace and you will instantly be connected to Dave, and to each of Dave's friends.
Click Here to Join:
http://www1.myspace.com/reloc.cfm?c=2&id=E5CB1F33-4AC2-458B-B477-AA00B
What is MySpace?
======================
MySpace is an online community that lets you meet your friends' friends.
» Create a Custom Profile
» Upload & Share Pictures
» Send Mail and IM's
» Write Blogs & Comments
» It's FREE!
Who Uses MySpace?
=======================
MySpace is for everyone:
* Friends who want to talk Online
* Bands that want to upload their music
* Families who want to keep in touch
* Professionals interested in networking
* Classmates and study partners
* Anyone looking for long lost friends!
What Do I Do?
======================
1. Click the Link In This E-mail
2. Create Your Profile
3. Start Communicating with Your Friend and Your Friend's Friends
4. Invite Your Friends to Join!
Click Here to Learn More:
http://www1.myspace.com/reloc.cfm?c=2&id=E5CB1F33-4AC2-458B-B477-AA00B
You got this email because someone who knows you
sent you an invitation to join them on MySpace.com
If you want to prevent any invitation emails from MySpace members
in the future, you can click here:
http://www1.myspace.com/misc/block.cfm?iid=E5CB1F33-4AC2-458B-B477-AA00B
or send a single blank email with the subject line "BLOCK" to:
mailto:privacy@myspace.com
You can also block future invitations or direct any other inquiries
by regular postal mail to:
MySpace.com 1223 Wilshire Blvd. 402, Santa Monica, CA 90403-5400 USA
---
I told you it was a long message!
As with any other social network, the best practice with MySpace is to specify a personalized message that lets your friend know what's going on in your words, not those of the corporation. It might look like this:
"Dude, had a great time talking with you at the party last weekend and thought it'd be cool to hook you into my MySpace account. If you're cool with that, click on the link below and sign up. Hopefully I'll catch up with you at JC's this Friday too (you know about that party, right?) –R."
Or, perhaps, something that doesn't make you sound like a 19yo surfer dude, whatever. 🙂
You can also keep track of your outstanding invitations by clicking on the
view past invites
, which will show you how you're doing recruiting people for your social networking site:

It's a pretty straightforward tool, as you can see.
That should get you going!