How does Facebook make money, Dave? I mean, seems like every time I log in there are new applications from third parties and more friends to connect with, but I never pay a nickel. In fact, the only place I've ever bumped into a request for payment is when I want to send someone a "gift", but that's all based on "facebook credits"? What's the scoop?
You ask one of the great questions of the "Web 2.0" world: in an online universe where everything seems to be migrating to the free mark, how on Earth does anyone actually make any money (other than the overpriced so-called "social media gurus", that is 🙂 ?
In Facebook's case, you're right that most everything seems to be free, but what Facebook has is attention. Unlike so many other services that compete for eyeballs, Facebook is a world unto itself and has an extraordinarily busy online community that numbers in the hundreds of millions.
That means that companies who want to get in front of those social media leaders are highly motivated to pay whatever they must to gain visibility. When you're logged in to Facebook, it's the ads, the promotional apps, that you should be paying attention to, because that's the main revenue stream for the Facebook organization at this point.
Nonetheless, as you say, there are also these little graphical gift widgets you can send people too, and I would be unsurprised to find that's a meaningful revenue stream. After all, cell phone ringtones are a multi-billion-dollar market, and that's at $0.99 per.
With just about 1000 Facebook friends, not a day goes by that I don't have a few pals with birthdays, and when I researched this question, it turned out to be the day before my friend and colleague Deborah Micek had her birthday. So I bought her a cupcake to illustrate how the gift credit currency system works on Facebook too.
To start out, you should already know that a few screen scrolls down, on the right side, is a list of people's birthdays on your Facebook home page: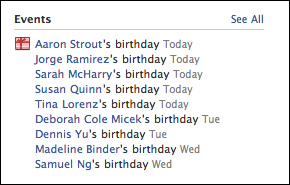 I clicked on her name and it takes me straight to her Wall, making it easy to wish her a happy birthday. More importantly, though, it also shows me some of the more popular gifts available to send: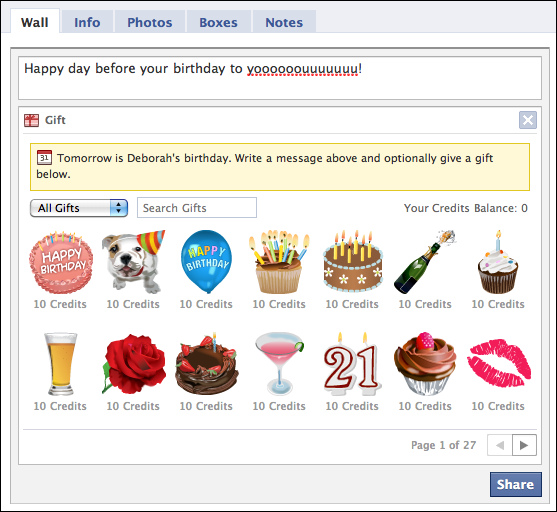 The question, of course, is what's the conversion rate between Facebook "Credits" and actual money? Turns out it's 10:1, so each credit costs you $0.10.
Move your cursor over the item you want to send and it tells you what it is (in case you don't understand the graphic):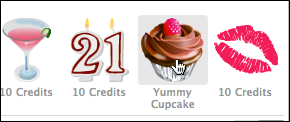 Who wouldn't like a Yummy Cupcake for their birthday? I click on it and for the first time find out how much real money it's going to cost to send this graphic: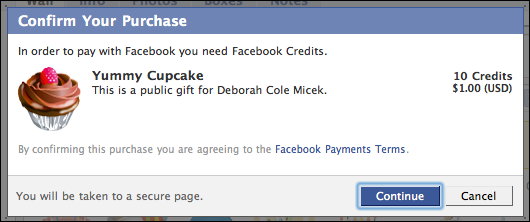 What the heck, let's spend a dollar brightening up Deborah's special day! I click on "Continue" and…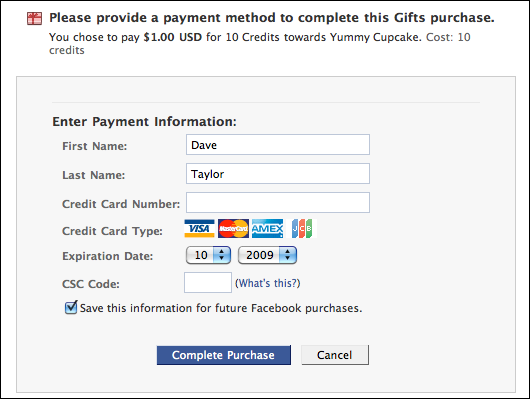 Credit card payment information entered (but not shared here, for obvious reasons!) and I click on "Complete Purchase":


A few more seconds pass, then:



Huzzah! Now on her Wall, Deborah – and every one else who is friends with her – sees:



Notice the glitch, btw: the message I had typed in earlier that I wanted associated with the gift has vanished, so I am forced to leave it as a comment. Kind of awkward, it'd be nice to be able to associate a message directly with the gift, but apparently that's not how it works.
Anyway, now you know a bit about how Facebook makes money off of its user community and how you can send cupcakes, beer, martinis, and much more to your friends on Facebook if you're willing to drop a buck or two on buying some Facebook credits.
I'd also like to let you know that I have quite a bit of
Facebook help
here on the site and that I also have an
Ask Dave Taylor Facebook Fan Page
that I invite you to join.