This is just deeply troubling: I finally succumbed to the never-ending harassment of my pals and have signed up for a MySpace account, but as soon as I signed in, the system tells me that I have a friend already linked to me named "Tom"? Who the heck is Tom and why is he listed as my friend?
That's very funny – I have Tom listed as a friend on my MySpace account too! Check it out:

If you click on Tom's kinda dorky picture, you'll find that he's actually part of the MySpace team and you can send him messages if you have questions about the service (though MySpace has a pretty nice FAQ area too). This explains why he has a staggering 65,111,625 friends. Makes me wonder how the heck he manages around the holidays when he wants to send out his best wishes (the answer, of course, is that he uses MySpace to broadcast to everyone at once, I know)
If you want to drop Tom as a friend, I'm sure his feelings won't be hurt. You can do that by clicking on
Edit Friends
just above Tom's picture. Then you'll see this: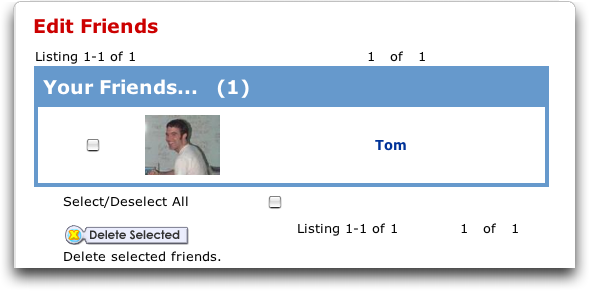 Yes, you can delete friends if they get you mad. 🙂
Actually, while this is a rather rudimentary interface, it's pretty straightforward too: click on the box next to the ill fated Tom then click no the "Delete Selected" button on the bottom.
Then you can work on adding your real friends to your MySpace account, which is far more fun anyway.
Hope that helps clear up this confusion.