It's World Cup time and this year my mates and I want to use a spreadsheet to keep track of the games and our wagers (uh, all in fun, of course!) so I thought it'd be cool to use the new Google Spreadsheets program to do this. But I have no bloody idea how to get started. Can you help us out while we're busy rooting for our team in the games?
Ah yes, there's little as exciting as the FIFA World Cup 2006 and I certainly plan on adjusting my work schedule to watch some of the games, particularly as the later games begin! Using Google Spreadsheets is a terrific idea too, and I have to say that to me one of the real values of the new online spreadsheet program is sharing the spreadsheet, something that most of the analysts seem to have missed entirely.
But that's their problem, eh? 🙂
Assuming that you have a Google Spreadsheets invitation (your mates won't need one, as far as I can tell, but they'll need a Google account, but I'll talk about it a bit later), it's pretty straightforward to create a shared spreadsheet. Let's have a look.
You'll need to log in to the spreadsheet tool, then you'll have a nice empty spreadsheet sitting and looking at you. Simply start typing in values, such as the following list of teams playing in the World Cup: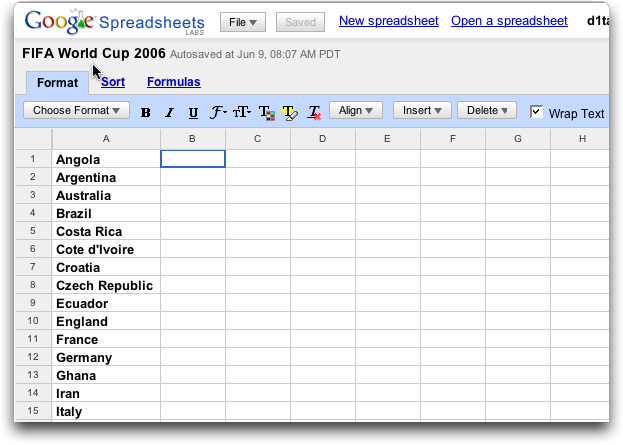 Typical spreadsheet, not too exciting, right? Notice that I've already saved this sheet by clicking on the "Save" button adjacent to the "File" button on the top left. When I did, it asked me for a spreadsheet name:
There's obviously a lot more I can do with the spreadsheet itself, but let's just have a quick look at the choices on the top right of the spreadsheet:
You can see "Show sharing options", that's what we want to use. Very cool, here's what you see:
Now you can give your mates either edit capability (probably a good idea) or view-only capability by adding their email addresses to the appropriate box.
Uh oh, we forgot that Google Spreadsheets is in beta, didn't we? Well, try to enter a bunch of different addresses and you'll find that:
Not a huge problem, though. Your mates don't need to have Gmail addresses, just accounts on the Google system itself, which you can easily have them do by going to the Google home page and clicking on "login", or going directly to
Create a Google Account
.
For those who are able to tear themselves away from the television long enough to accomplish that goal, you'll now be able to email them an invitation to access and, perhaps, edit your spreadsheet:
As with all generic messages of this form, I always recommend you add something personal so the recipient will be able to differentiate this from spam. Not too hard, add something witty then click "Send Invitation" and they'll promptly receive the email with a link that will let them access your spreadsheet.
Simple, effective, and it should indeed be a great way to keep track of both the World Cup games and your ongoing wagers. And good luck to you all!