I'm pretty sure that I lost my Apple iPhone 4, which is bumming me out, and while I already locked it remotely [see How do I remote lock my Apple iPhone?] I want to send a message to the person who might be trying to hack into it that I'll pay them a $20 reward, no questions asked, if they'll return it to me. Can I send an emergency text message to my iPhone?
You can indeed send a remote text message to your iPhone from any Web browser anywhere in the world in much the same manner as you sent the lock code. Smart idea, sending the lock code if you're afraid you've lost your phone, btw. Heck, if you know it's been stolen and you think there's no chance of recovery, you can also remotely wipe all the personal data. If you then find it, iTunes will automatically restore everything, so it's not a one-way trip to iPhone oblivion either.
If you're thinking that you could easily just text message yourself, that's true, but as you'll see, the remote message capability of Find My iPhone is really superior for this situation, particularly since 1. you can send it from any computer on the Internet and 2. it comes up as a different message without a return phone number displayed.
As I've shown in other articles, in Find My iPhone you see the phone shown on a map or on a blank background if it cannot be located. Hopefully it's a map and looks like this:


Tap on the little script "i" next to the phone name on the map display, and a window of options appears: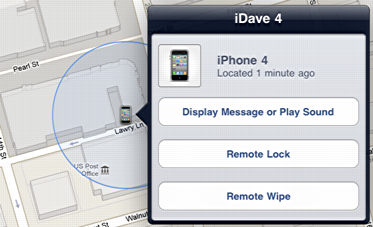 Tap on "Display Message or Send Sound" to proceed, and you'll be presented with a small input box within which you can enter whatever text message you'd like displayed on the iPhone (or iPad or iPod Touch):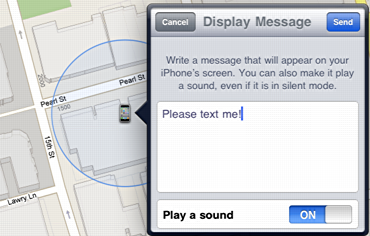 Once you're ready, click on "Send" and…


After a few moments, you'll have the following displayed, whether you're on a Web browser based version or another iOS-based device:


Meanwhile, here's what shows up on the iPhone (an iPhone 4 in this case):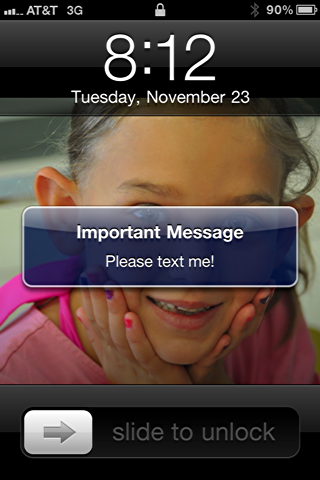 Pretty simple. In this instance, the message isn't very useful, but if you were to have something like "If you leave my phone in an envelope at lost and found, I'd be most grateful" it might well spark the good samaritan instinct in the person who has your phone and you might well recover it. Or offer a reward, perhaps also left in lost and found with their name on the envelope. Then again, now we're talking about a "drop" so it might not be such a good idea, so I'll let you work out the logistics.
Most importantly, now you can see how to send a remote message to the iPhone. I'll also note that the ability to send an audio alarm is useful in finding an iPhone that might have the ringer volume low or be set to just vibrate on a call.