I just met this cool girl and want to hook up with her on MySpace, but I don't know how to do that. I read your earlier article about how to invite people via email, but that's going to see kinda lame if I already know she's on MySpace. Help!
With so many members, I wouldn't be surprised if people nowadays didn't have calling cards that included their MySpace identification information, but it's pretty easy to dredge someone up if you know something about them. You can search by school, network affiliate and even name, display name, or email address.
Let me show you what I mean by searching for, hopefully finding, and hooking up with my pal Cathie Walker of Silly Girl Productions.
First off, click on the Search option on the main navbar:


Then you'll be on the search page where you can do one of a bunch of searches. You can do a freeform search all of the MySpace profiles with the top box:

It's the next option down that you probably want, however, at least assuming you remember this girl's name or email address!

Here I'll leave it at "Name" and type in Cathie's name, then click on "Find". Within just a second or two I find that there are two matches on MySpace:
Notice the top filter, which can really help if you match a zillion people on the site. This time, however, it's not necessary since the first of these two matches is indeed the Cathie I'm seeking. Nice!
To connect with her I simply click on
View Profile
, then, within her profile, am presented with a bunch of different options in terms of my interaction with her: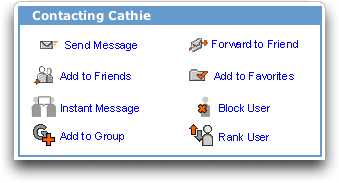 I'll click on
Add to Friends
at which point the system will seek to confirm that's what I really want to do:

I click "Add to Friends" again, and MySpace then sends Cathie an email asking her to allow our connection. If she accepts, we're friends for life (as we already are in the real world!) and if she rejects it, then maybe I need to give her a call or email her to ask what happened. Or find some other Cathie to connect with!
Hope that helps you out and good luck connecting with your new friend.