I just bought a Blackberry Pearl, figuring it's the best phone out there until the Apple iPhone arrives, and am pleased with its ability to "push" email out to me anywhere, tapping into my main email account. Problem is, lots of my email is from lists where I don't need to actually be notified in real time, they're just for me to file for later. Can I filter or otherwise tweak Blackberry email on my Pearl?
Yes you can, but you can't do it on the phone itself, which might seem a bit confusing. What you need to do is log in to the Blackberry Internet service site: log in to BIS [Cingular]. Obviously, you do need to actually have an account there, so you'll already need to have set up your Internet service through your carrier, be it Cingular or T-Mobile.
Once you're logged in, you'll see your email account listed like this:



On the right side you'll want to click on the weird (antenna?) icon under "filter" to set up an email filter. Here's what happens when you do that:


You can see that I have one filter in place already, but more importantly, you can see on the bottom that you can set up the Blackberry system so that you automatically have mail that either
matches
or
doesn't match
your filter forward to your phone. Maybe you just want email from your friends to get through, and all work stuff is ignored, for example, a scenario much easier to configure by excluding everything and only explicitly forwarding mail from the half-dozen known addresses.
To create a new "if this matches, don't forward" filter, leave the radio bottom on the bottom as shown, and click on
New Filter
: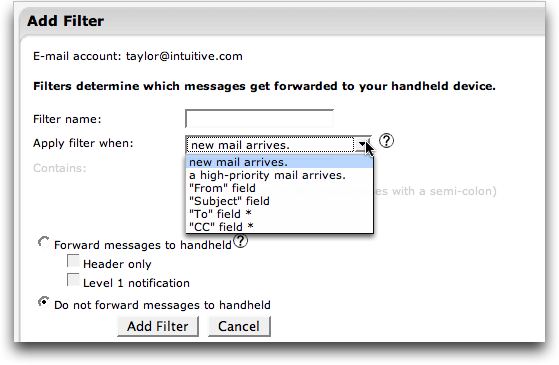 I've popped up the menu option so you can see the different filtering available. Not too bad at all! To filter by certain words in the subject field, for example it could be all mail from a mailing list that identifies itself with "[mylist]" as part of the subject, you'd set it up thusly:


I think that's pretty straightforward! Once you get it configured as desired, click on "Add Filter" and you'll be wresting control over the flood of email going onto your new Pearl.