Dave, I heard today that you can now customize your news headlines page at Google's Gnews service, but I can't see how to do it. Can you illuminate this for me, please?
It seems like Gmail gets all the attention in the "other stuff we should be doing in addition to search" area at Google, but their slick Gnews service, though it's been in beta for a ridiculously long time, is another nice information site from the company. News stories are picked out through an automated process, so while there's less editorial bias about what's important, it also means that sometimes the stories that appear are a bit weird or the pictures associated with a given story can be, well, unrelated.
In terms of customization, yes, finally there's the ability to tweak your Gnews account to fine-tune your feeds and — most usefully — create custom feeds on the same page. Now if they'd just add arbitrary RSS feeds…
To customize your own Gnews page, pop over to Gnews and click on the link "Edit this Customized Page" on the top right (just below the 'last updated' information. You'll see this:
Actually, yours won't look exactly the same because I've already done some customization here: I removed the Sports section, reordered specific areas to match my interests, and added a new custom section that shows news stories that match the pattern "blog OR weblog".
To change the layout of the page, drag and drop the different boxes around. It's not completely intuitive because the item doesn't actually drag around, but experiment and you'll see it works. Oh, don't try to drag the title of a section (e.g., "World") but drag from somewhere else in the box and you'll have better results.
You can add a standard section (like news about India or Japan) by clicking on "add a standard section". You'll get the ability to pick which edition you'd like to select from, and then which section from that edition. Just as importantly, you can specify how many stories should be shown (I've bumped everything up to 5 stories from 3, for example). Here's how a standard section addition looks in Gnews:
You can also add a customized section, which is where you add a search pattern for the feed information. You might pick your favorite politician, celebrity or business personality, a company you're following (or work for!) or something else, but I've opted to track news about Weblogs, as you can see in this already-filled-out custom section: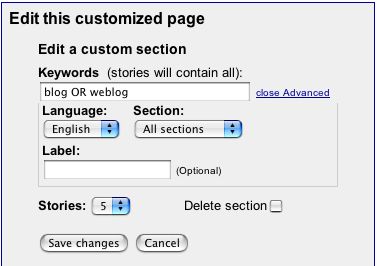 Finally, when you're done tweaking everything just so, click on the "save layout" button, then on the "close" link on the top right and you too will have a nice customized Gnews page that meets your own needs and interests!
Oh, there are two other changes to the Gnews site worth mentioning. First off, you now have "Show more stories" "Show fewer stories" links below each section (and an "edit" link on each section too, but I have a nagging feeling that was there before the customization was an option), and at the very bottom of the page there's a new link Share your customized page with a friend. Click on the latter link and you'll see this:

Want to see my customized page? Here ya go: Dave Taylor's Customized Gnews Page.
I've always liked Gnews and am pleased to see this new level of customization added to the site. Now, as I said earlier, let's see RSS feeds and Google will have backed into the Portal business without anyone paying attention.