I'd like to add a few Twitter search links to my Web site. Is that possible, or does Twitter prohibit this sort of thing?
There's actually no way for Twitter to block a search link like this and if you're going to be opening up a new page — or replacing the current page — with the search results then you're good to go. On the other hand, if you're trying to reverse engineer things so that you can embed the search results on your page through some programming, well, that I can't help you with.
A simple Web URL of this nature has two components: the destination URL that the search term is going to be sent to, and the search pattern itself.
How to figure that out? The easiest way is to actually do a Twitter search and see what URL is produced. Classic reverse engineering approach. So let's do that!
First off, go to Twitter.com and do a search. The box is along the top:

Click in the search box and your recent searches show up in a menu:
None of them are what we seek, let's instead search for
#instagram
with the hashtag included. The result of the search: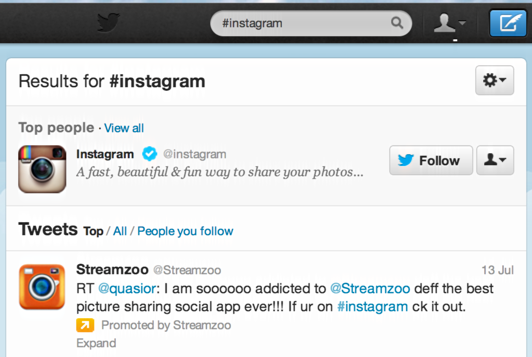 Look on the top address bar, and we'll get everything we need:
In fact, it's easier than that: skip the "https" and just make it a regular link. So we have:
http://twitter.com/#!/search/pattern
That's all there is to it. Want to have a link to a Twitter search for my account? You could use:
http://twitter.com/#!/search/davetaylor
With that in mind, you can also search for patterns that have a hashtag by using the %23 prefix. Want to search for "#DadChat"? Here's the form:
http://twitter.com/#!/search/%23dadchat
So there you go, good luck!