Dave, a former colleague of mine at Twitter has asked me to write a recommendation for them on LinkedIn. I know how to write recommendation letters, but have no idea how to submit a recommendation on the LinkedIn platform itself. Can you assist?
LinkedIn remains one of the premier places for business networking online and it's smart for people to keep their profiles updated, including current jobs, academic experience, and awards earned. This also means that it's a good idea to occasionally ask colleagues for recommendations to bolster your profile and to be open to writing recommendations for them too. Sometimes it's a good quid pro quo, but other times, it's just a nice way to acknowledge a job really well done.
I was in a similar situation when I decide to write a recommendation for my current webmaster after she worked thru a weekend to address an issue I faced on my PlanetDave.com site. Definitely above and beyond what I expected and I wanted to acknowledge that in a way that would help her out. So, LinkedIn! Here's how I wrote her recommendation and submitted it through LI.
NOTE: This process is completely unlike writing on someone's "wall" on Facebook; when you write a recommendation on LinkedIn, it's then sent to the recipient who can approve it or reject it. If they reject it, you can ostensibly tweak it to work better, withdraw/delete it, or ignore it, with the recommendation itself then ending up in the unpublished queue forever. So it goes, sometimes.
With that in mind, let's get on with it!
STEP ONE: FIND THE RECIPIENT'S PROFILE
You'll already want to have a 1st level connection on LinkedIn with the person you're poised to recommend, so searching for them should be easy. I search for "Mindee" and it offers up her profile as the best match:

Click on their entry to jump to their profile. You'll see a summary, what used to be called a "summary card" in early LI interface terms: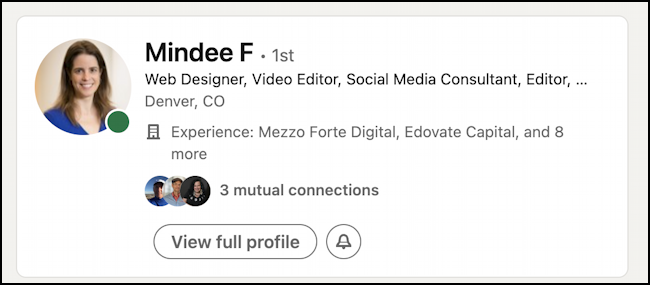 This confirms it's the right person – hopefully! – so you can proceed by clicking on the "View full profile" link.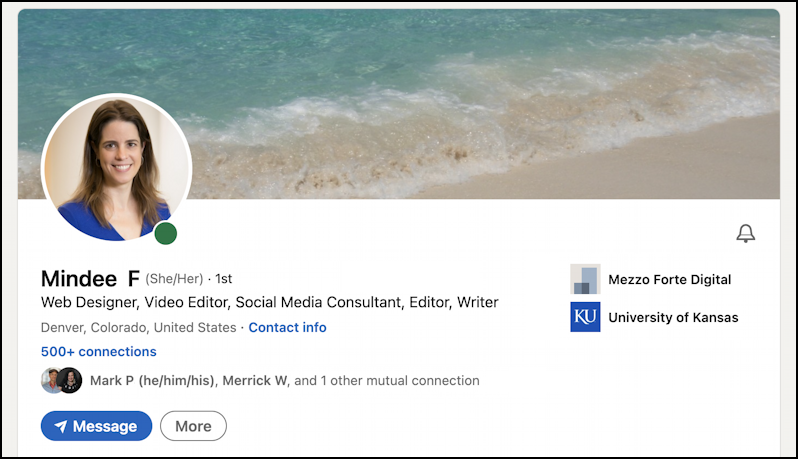 Still not at the right spot, and if they have a well-populated profile, the next step might involve a fair amount of scrolling…
STEP TWO: FIND THEIR RECOMMENDATIONS AREA
Scroll down, down, down, until you get to this spot:
If you're guessing that the "Recommend Mindee" button is the way to proceed to the next step, you're right! Click on it and a form will be shown:
It includes three sections: Your relationship with the recipient, their role at the time (since they might have multiple simultaneous jobs listed in their profile), and the recommendation itself.
STEP THREE: WRITE THE RECOMMENDATION
Start with your relationship with them, and remember it's in a professional context, so "brother in law" isn't an option, but "client" is: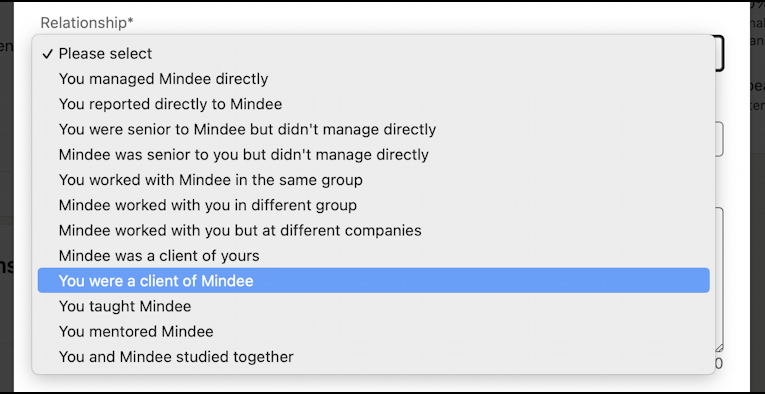 For my recommendation, the best match is "You were a client of Mindee", as the blue highlight indicates.
The second option relates to the relevant company out of their list of employers. If you worked with them years ago and just now want to add a recommendation, you can do that, or you can just pick their current gig. Either way, make the best choice, then proceed with the writing of the recommendation itself.
There are lots of resources online to help with what to say, and indeed.com puts it succinctly: "An honest recommendation details a personal account of your experiences with the person. You should know how they act and perform in a work environment." It should also be positive and enthusiastic because, well, you're recommending them, right?
Here's what I wrote for Mindee:
It says: "Mindee has been helping me out with my various Web sites for a couple of years now and is by far the best webmaster I've worked with; She's responsive, quick to find and solve problems, and retains a sense of humor about her work even when I'm stressed about something breaking. Will definitely continue to work with her in the future!"
Take the time to fix any grammatical and spelling errors so that it's tight, clear, and professional.
STEP FOUR: SUBMIT YOUR RECOMMENDATION
Done? Click on the blue "Send" button.

They'll then be notified of your recommendation via LinkedIn Instant Message:

They can then read through it and decide to accept it – with the recommendation then showing up on their profile – or reject it. Since it's in an instant message, they can also directly message you their appreciation, request for tweaks, rejection, or what-have-you. Easily done.
Eventually, hopefully, you'll look at their Recommendations area and find that your recommendation is now on the list for everyone to see. Well done.
Pro Tip: I've been writing about LinkedIn since the launch of the popular professional networking site. Please check out my extensive LinkedIn help area for lots more tutorials while you're here!