There's no denying it, I live in a messy space. Kids, my collectibles, the pandemic, it's all added up to chaos. When I'm on video calls, it's a bit embarrassing! Is there a way in Google Meet for me to blank out my background so I seem more professional?
Now that so many people have switched to working from home or schooling from home, you're definitely not alone in suddenly being aware of your backdrop or background while on video calls. A neatly made bed, an office with a bookcase full of interesting books, sure, but if you're like most of us your background is way more chaotic – and possibly messy – than that. No worries, these video chat and conference systems have your back. Zoom, for example, has lots of things you can do with Zoom virtual backgrounds, as I have explored more than once here on the site!
Google has been migrating us all from Hangouts to the newly renamed Google Meet, and the development team hasn't forgotten this link too. Heck, since they're probably working from home too, they might have had that as feature #1 to avoid their colleagues snarking on their own backgrounds, unmade beds and inappropriate wall posters! It's actually pretty slick how they've implemented it, actually, with two levels of background blur in addition to about twenty pre-loaded backgrounds and the ability to use your own photo instead.
To start out, jump over to Google Meet where you'll see something similar to this:

Like most of these video meeting apps, what isn't obvious is that you can launch a meeting with just yourself and then experiment and explore all the features and settings outside of a meeting and without anyone else being aware of what's going on. To do that, click on "New meeting".
For regular use, scheduling meetings with Google Calendar is a definite win, but for right now, choose "Start an instant meeting". It might ask for permission to access your webcam and microphone, but you'll end up looking at yourself: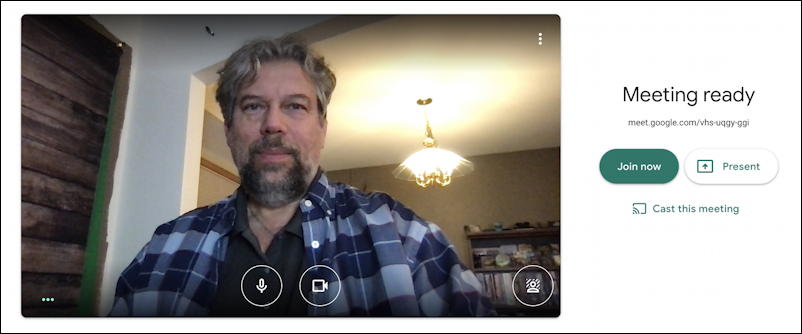 Want to invite others to join you? Notice the assigned meeting URL just below the words "Meeting ready". It'll be different each and every time you launch an instant meeting, so it's also safe for me to share this link with y'all because next time I use Google Meet I'll have a different address. 🙂
My background is pretty messy and distracting and it's nighttime so the lighting is a bit weird. That latter fact will prove important in a moment or two, but for now, notice that there are five buttons overlaid on the video image. From the lower left to the upper right, they are "•••" which is a visual indicator that the microphone can hear you (talk and watch how it reacts), a mute button, pause video button, the backgrounds button on the lower right, and, in the very top right, the vertical 3-dot button that gives you quick access to settings.
It's the lattermost that you want to click. Settings opens up a menu of choices and options: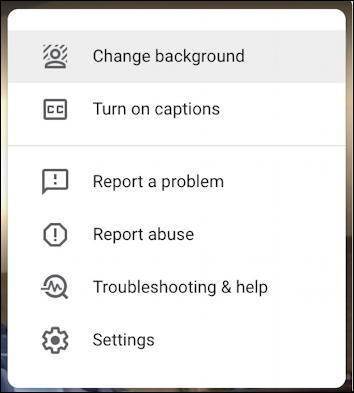 Lots of useful features including both Settings and Troubleshooting & help. For our purposes, however, choose "Change background" which is redundant with the background button on the lower right. That's okay. More than one path to the same result, which is that a little palette of background options appears below your video window:
The leftmost option on the top is no background if you want to go back to the real view, but moving rightward from there, the buttons offer a modest background blur, a more serious background blur, the ability to upload your own photo ("+") and a gallery of preloaded background images that can turn your chaotic bedroom into a professional setting in a click!
FUN WITH GOOGLE MEET VIRTUAL BACKGROUNDS
Let's start with the modest background blur. A click and it looks better: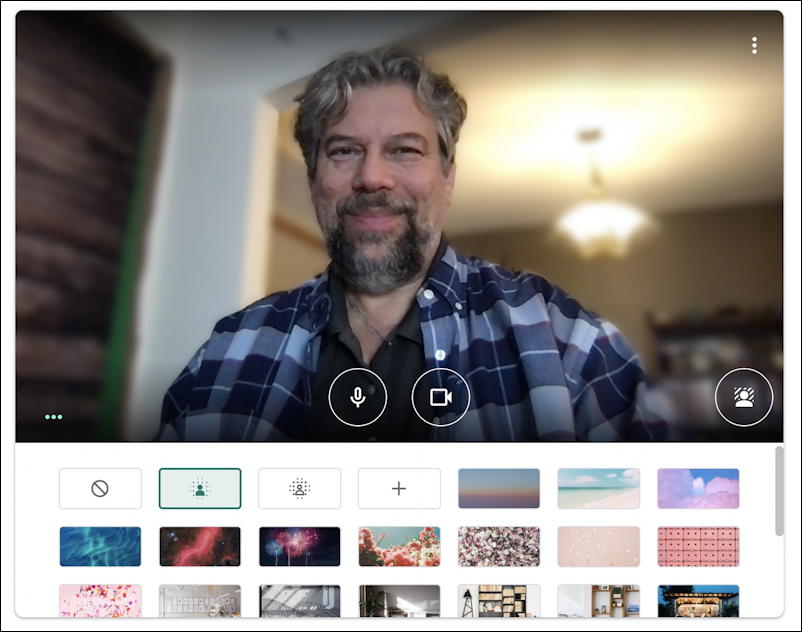 Where things really get cool is when you choose Big Blur (or whatever Google calls it). This applies some pretty smart video image processing and your background becomes much more abstract: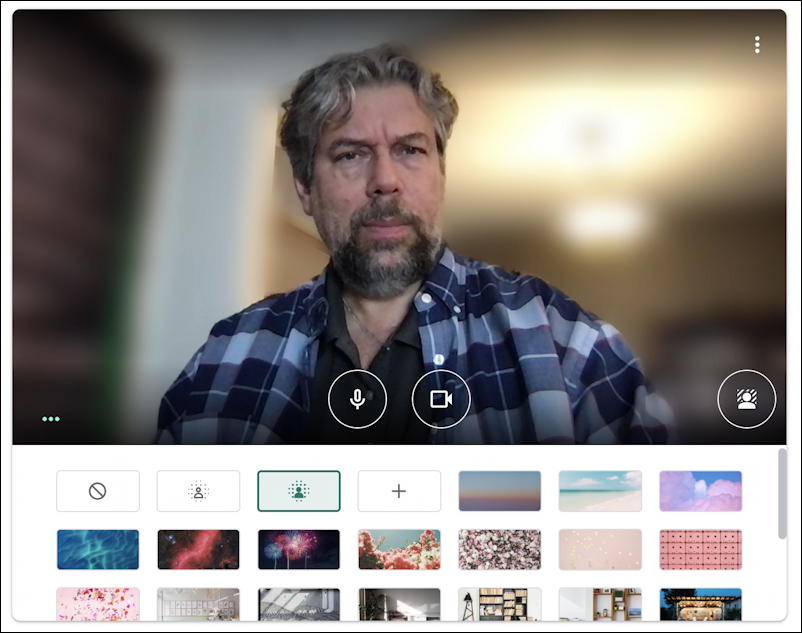 Messy and non-orthagonal background suddenly becomes an interesting blur, certainly much less distracting for people on the other end of the meeting, conference or class.
But what about those pre-loaded images? A click and you can see if it works better for you:
I really like this stylized art background, actually. Heck, I might buy the print and hang it on my wall some day.
But notice also the weird edges that are eating up part of my left cheek and giving me a brown smear of color to the left of my head. That's because virtual backgrounds actually are processor intensive and work best when there's strong, clear lighting to make it easy for the software to pick you out from your background. Indeed, older computers might not be able to use this at all, and even my powerful top-end MacBook Pro is struggling because of my poor lighting.
Still, okay. As long as you don't move around too much or gesticulate too enthusiastically, it's probably not that big of a deal. You can decide for yourself, and remember that having a more direct, bright light on your face and body can really help minimize this effect too.
USE YOUR OWN IMAGE AS A VIRTUAL BACKGROUND IN GOOGLE MEET
Let's check one more thing before we're done: Using your own background graphic instead of one of the preloaded images from Google. That's done by clicking on the "+" option:

A click and you'll have your usual file selection window pop up. Choose an image that expresses your mood and…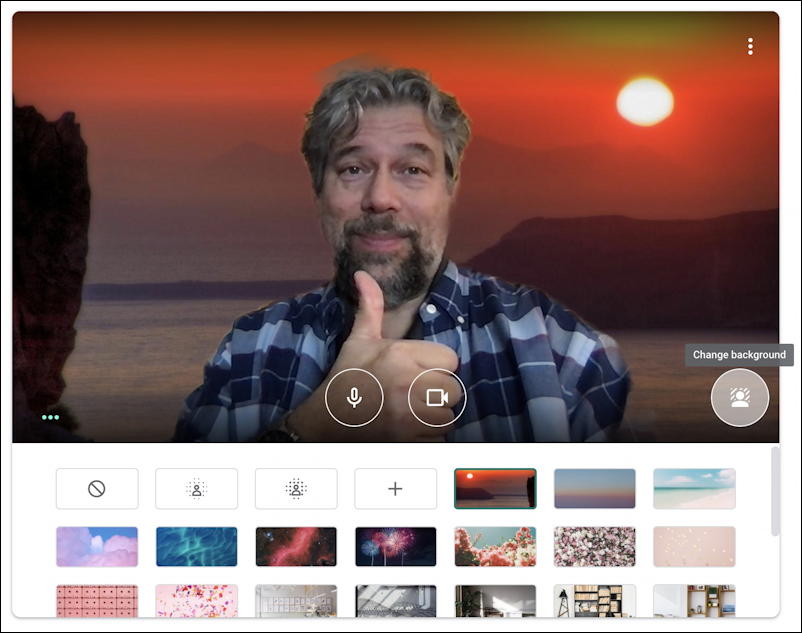 Happy with your selection? Click on the "change background" button on the lower right of the video preview and the bottom gallery will vanish. Now you're ready for that meeting…
Pro Tip: I've been writing about Zoom, Skype and other video conferencing software for years. Please check out my video conferencing help area for lots more tutorials, regardless of your preferred platform. Thanks!