I read that on Twitter I can now respond to a specific message in a group DM, rather than just have my post be in the regular message stream. This would be helpful because sometimes I want to respond to something a few messages back. But I can't find this new reply feature for the life of me. Help!
Twitter continues to add new features and streamline the experience with the hope that it remains one of the most important of social networks, even as its reputation gradually diminishes. While there are other similar platforms that have appeared, none have gained even a faction of the momentum and traffic of Twitter. Since the code base appears to have been pretty solid, the subset of original Twitter engineers that remain with the firm have been tasked with adding interesting and valuable new features, most notably including the threaded text message-like reply feature.
Also in the latest Twitter update is a revised emoji selector and, most importantly, a greater range of emoji reactions to what other people share. For now, most of this is in the direct messages feature (it would be mayhem to have it as a feature of the public discussion tsunami), but the reason you can't find it is because it's only implemented on the mobile version of Twitter for now. Let's have a look…
DM IN TWITTER VIA THE WEB
A lot of people use Twitter from their computers, which means they're logged into the Web interface. It's really good, but it doesn't have quite as many features as the mobile version. Still, let's start here, in a direct message between myself and @FilmBuzz:
This is a pretty typical direct message, and at this point I can simply respond in the lower box, but if @FilmBuzz sends a couple of additional messages in the meantime, things can get out of order and that can be confusing. Notice you can also respond with an emoji reaction by clicking on the tiny heart icon. The "•••"? Here's what it offers up as choices:
It's important to notice that we clicked on the "•••" to reveal this menu, because that exact same gesture on the mobile Twitter app produces a very different menu. But let's get there!
For now, start typing in a message in the lower box and the buttons vanish to give you maximum typing space. Here's my response, so far:
The tiny paper airplane icon, of course, is the "Send" button and remains one of my favorite icons in any social media application!
Click on the ">" instead, however, and those buttons reappear, even as your text is also shown:
Click on the smiley face and an entire emoji area opens up with tons of useful features, including a search by name or description option. I'm going to search for "shark" since it's highly appropriate for a discussion about the great sci-fi thriller The Meg:
Easy enough from this point; you can browse the thousands of emoji to find the most appropriate or just click on the match for your search. In both cases, it'll be added to the message. Ready to send? Click on the airplane!
MEANWHILE IN TWITTER FOR MOBILE
If we switch to a mobile device, the back and forth is as we'd expect. But now, if I tap on the "•••" icon adjacent to a message, instead of just the delete and report options as shown in the Web interface, there are more possibilities: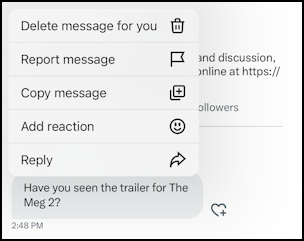 That last one is what you seek, but notice that the one above it is "Add reaction". In fact, let's start by adding a reaction! I'll choose, no surprise, "Add reaction" and a small row of Facebook-like emoji appear:
I'm going to ¡fuego! the question by clicking on the flame icon.
I'm poised to submit another message too, but what I've done this time is choose "Reply" from that same "•••" menu. The input box is just above the virtual keyboard, as usual, but notice that the message is repeated in a small info box just above it as a reminder. Once submitted, it shows up very differently:
It's pretty small, but notice that the original question now shows up twice on the screen, once as the original DM, and the second time with my response, all identified as "Replying to". Neat!
AND BACK ON THE WEB INTERFACE
While the Web interface for Twitter doesn't (yet) support Replies, it does display it all correctly:
That's it. The short answer is "use the mobile app, it's more featureful" but now you can see how it all fits together and if you're using the Web interface and see others in a group DM "replying to" messages and are frustrated that you cannot do the same, you now know why!
Pro Tip: I've been on Twitter since the early days and have written lots and lots of useful tutorials. Please check out my twitter help area for more useful guides. Oh, and why not follow me, @DaveTaylor, on Twitter too? Thanks!