I do a lot of research for my books as a writer, but I don't really want to leave a search history for my kids to find. How can I use incognito mode in YouTube on my Android phone to avoid having a search and viewing history?
Until very recently, I would have said that you should set up a second Google account and use that when you were exploring YouTube and didn't want any sort of history. In fact, that's still a pretty good solution if you want to sidestep history, recent searches, recommendations and similar (even on sites as benign as Amazon.com). Google must have been paying attention to how people use YouTube, however, because the version of YouTube for Mobile that's now available for Android users includes a simple but effective incognito mode!
By itself, any sort of incognito mode isn't going to completely hide what you're doing because there are still domain name lookups (if it's Google Chrome incognito mode) and specific URL requests logged at a lower level of the interaction. For regular folk, however, it's more than enough to ensure a reasonable level of privacy. Not enough? Then you might want to check out a VPN too, for your computer, mobile devices, etc. Here's a video I made about it: Why You Need a VPN.
But let's get back to that Android solution! Make sure you have the very latest version of the YouTube app on your Android device, then launch it.
That's a pretty typical home screen, though hopefully your videos are a bit more interesting than these two that YouTube's decided I would find fascinating. 🙂
On the top right of the app screen there's a tiny photo in a circle. That's your profile photo and it's also where you want to tap to get to the main menu in YouTube for Mobile. Tap there.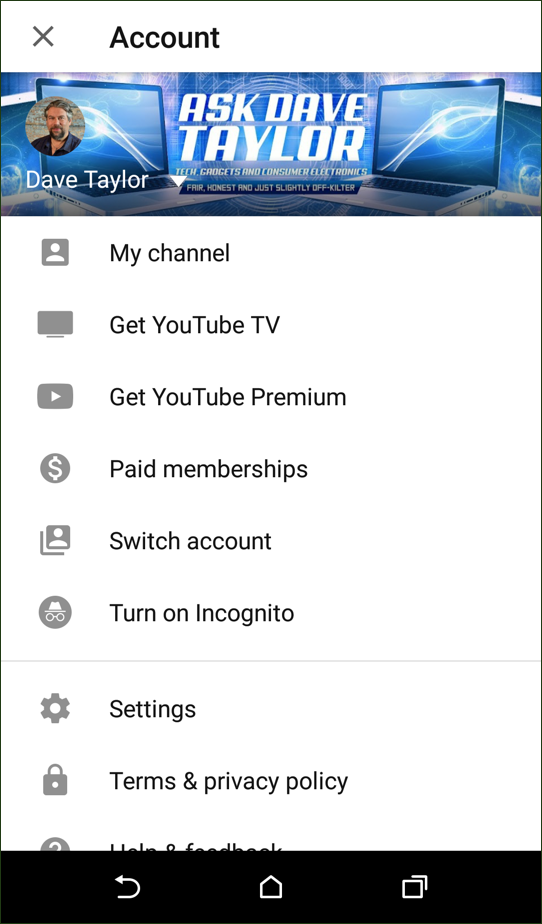 You can see the new option just before the dividing line: "Turn on Incognito". That's it! Tap on that and you'll get a warning message:
As I said earlier, it's not magic and doesn't completely hide your interaction, but it's a pretty good first step to regaining some privacy with YouTube. Tap on "Got It" to proceed and… it's just like before:
Well, actually it's not exactly the same. First off, your profile photo has been replaced by the incognito icon (top right) and there's now also a dark grey bar along the bottom saying "You're incognito".
To try it out, tap on the magnifying lens icon on the top to do a search:
Now you can view all those questionable videos without anyone knowing! For example maybe you want to learn more about the Dark Web…
Crazy stuff. Phew!
Now, ready to go back to non-incognito? Just tap on the incognito icon on the top right and it'll prompt you for how to return:
That's it. Now, good luck with your research and be careful out there!
Pro Tip: We have lots of Android help and YouTube help both. Please take a few minutes to check out our library of useful tutorials!