I've been using Safari on my Mac system and am wondering what I can do to manage and modify my bookmarks? I don't want to go into the Bookmark Manager if I can help it; it's awful!
For a feature that's been essential to "surfing" the Web since it first showed up, it's surprising how little love bookmarks and favorites have received through the many years of Web browser evolution. Third party sites have grown out of the need for better bookmark services, like StumbleUpon and Digg, along with Pinterest, but still the basic tools for managing Favorites and bookmarks are relatively crude and uninspiring. At least they sync across platforms now, however, so adding a bookmark on one computer causes it to also show up on other devices you use, like your iPhone or iPad.
And yet, it turns out that Safari has some useful tools, though they are buried in a too subtle interface and are likely to never be used by Mac Web surfers. Surprising for a company that prides itself on having simple and elegant interfaces and a great user experience "for the rest of us". So let's have a closer look…
WORKING WITH BOOKMARKS IN SAFARI
First off, let's go to a typical Web page. This is the Denver Post in the latest version of Safari on MacOS 11: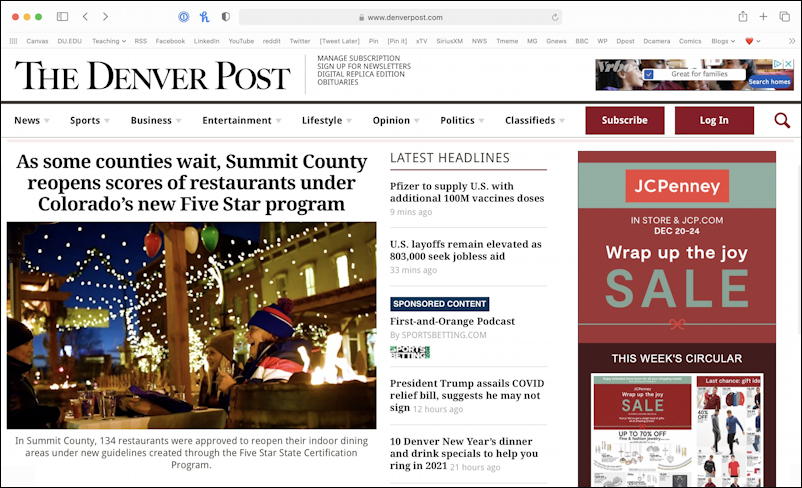 Key to notice is that I have what Safari calls the Favorites Bar shown; text only bookmarks just below the address bar and above the content of this particular page. If you aren't seeing that on your Safari, use the menu at the top of the screen to choose View > Show Favorites Bar and it'll appear.
Let's look a bit closer at this bar…

Your bookmarks will invariably be different to mine but what you should notice here is that you can have folders that contain sets of bookmarks (as "Teaching" and "Blogs" both illustrate with the tiny "v" adjacent) and you can use emoji if you want to take up even less space on the Favorites Bar. Heck, the ❤️ favorite is a folder, so you can even combine things!
But there's one more item on the Favorites bar: The tiny grid of twelve dots. Click on it and your screen changes to your "Start Page" view: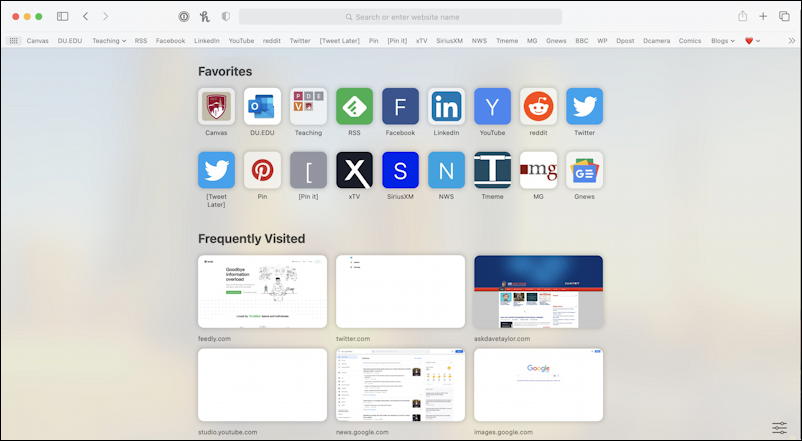 All of those tiny text shortcuts now show up as buttons in the Favorites section, but there are also thumbnails for sites you visit frequently and, if you scroll down, quite a bit more of interest.
Again, though, there's a secret. Click on the three bars icon on the lower right and you'll find you can customize your Start Page to include what you prefer and omit what you don't much care about: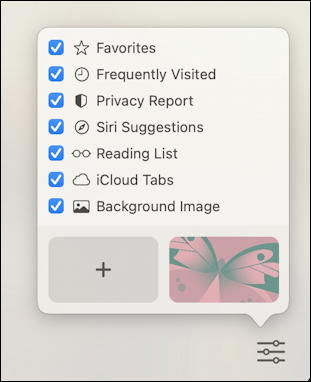 Try unchecking items to see how that affects the layout on the page: I generally hide the Reading List, for example, but like the Favorites and Privacy Report. You can even set this window as the view for new tabs you open in Preferences, just set "New Tabs Open With" in Preferences > General and select "Start Page".
Even more mind-boggling for people used to the austere white interface of Mac software, the graphics along the bottom are actually background wallpapers. You can't apply themes to Safari like you can with just about every other Web browser in existence, but if you check the box adjacent to "Background Image" you can drop a wallpaper onto your Start Page in Safari! I'll tap on the reddish butterfly graphic and instantly this window becomes far more visually interesting: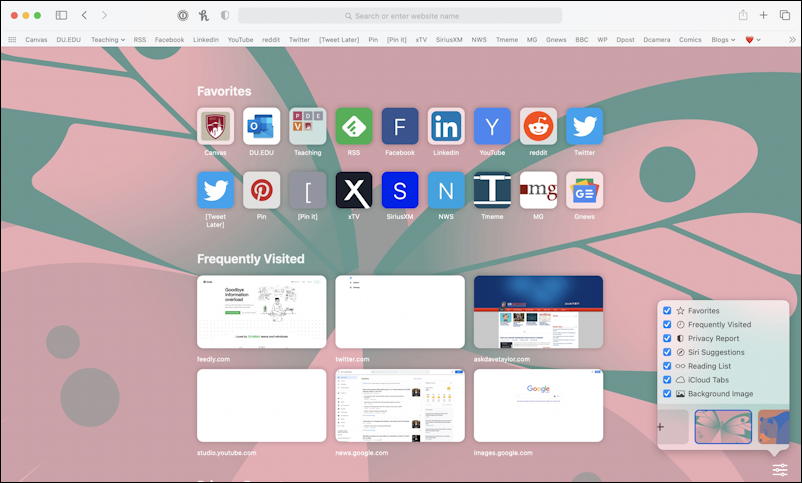 Astonishing, right? You can choose from a half-dozen or so options, or you can upload your own wallpaper by clicking on the "+" tile instead. Nice.
MANAGING AND UPDATING BOOKMARKS IN SAFARI
But what about those bookmarks? Let's head back to that by adding a new bookmark. Easily done from the top menu with Bookmarks > Add Bookmark: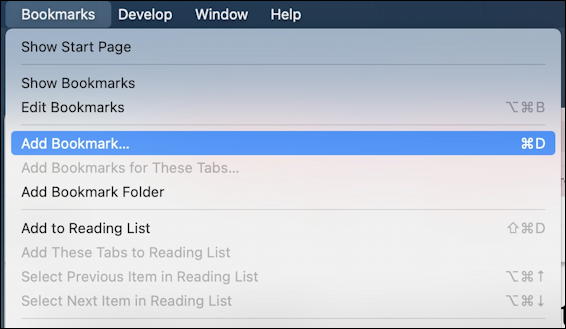 You can get to the Bookmarks Manager by choosing "Edit Bookmarks" but you've made it clear you're not a fan of that simplistic view. No worries! Instead, there are plenty of things you can do with a bookmark that's already on your Favorites bar. One easy thing: Click and drag to reorder them as you prefer.
But you can also Control-click on a Favorite bookmark to pop up a menu of options too:
There are shortcuts for many of these things, but knowing how to get to this menu is darn helpful because then you don't have to remember all those obscure, not particularly friendly key sequences. Let's start with renaming one of my bookmarks. That's almost too subtle, the word just changes color and gets a tiny border:

I can simply type a new name like "Denver Post" to make this a bit less cryptic. Easy.
If you have a favorite site where you jump to it and then 100% of the time go to a subpage, why not update the associated URL so that it starts at that point instead? That's easily accomplished by moving to the page in question, grabbing its address, then using "Edit Address…" from the Favorites mini-menu for that bookmark.
Note: You can edit and update favorites without having to go to the page or even be on the page in question. Try it!
Edit address is similarly minimal:
That's it. Easy, really, once you know about that context menu. Now go forth and clean up that Favorites bar on your own copy of Safari and revel in the improvement to your overall Web experience!
Pro Tip: I've been writing about Apple's operating system since the original release of MacOS, and been using Apple products since the Apple II. Suffice to say, I have an extensive MacOS help library I invite you to check out while you're visiting! Thanks!