I've got Ubuntu Linux running on one of my old PC computers and don't log in very often. When I do, how can I update Firefox to ensure it's the latest version?
You're smart for wanting to keep all your software updated, particularly Firefox. As a big, complex program, it's perhaps more vulnerable than some of the other apps on your Linux system. Not only that, but in early January, 2020, no less a group than US Homeland Security issued an update warning to all Firefox users about an active exploit. Even American Military News had a piece encouraging readers to "update their browser immediately". If you're curious, Mozilla, the company behind Firefox, has a security advisory page with all known threats and which version of Firefox fixes 'em too.
Or you can just keep it updated. 🙂
What's confusing about Linux is that sometimes you update software from within the software itself, while other times it's the system software update tool that is going to do the work.  Use the wrong one and it'll blissfully act as if there aren't any updates available, leaving your system vulnerable. Luckily I can take you through the steps with Firefox for Linux because I too have an Ubuntu Linux system that needed an update too!
I like to do this in two steps. First off, let's figure out what version of Firefox you're running. This is most easily done by going to the 'hamburger menu' [the three stacked horizontal lines button on the top right: click and it reveals a menu, as shown] and choosing "Help" from near the bottom:
There's a Help submenu with a variety of interesting options and choices: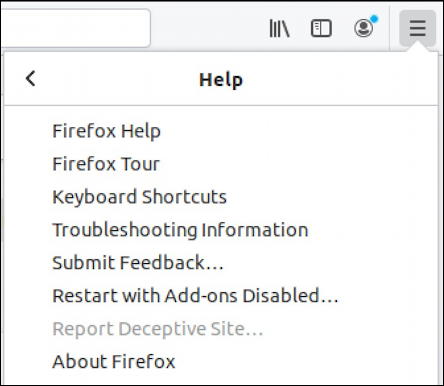 Choose the last of the options, About Firefox, and it'll show you the current version:
Here's where the Firefox development team is a bit lazy; in just about every other Web browser going to the About screen will fire off a quick check to see if it's the latest version and indicate if there's an available update or not. Firefox for Linux doesn't do that, because you can see it's on version 70.0.1 but the latest version is up to 72. Let's get that fixed up, Mozilla!
Which leads to the question of how you know if there's an update available. The answer is that Ubuntu Linux software update tool knows. In fact, it should automatically launch and check for all your system software after you've been logged in for a few minutes. If there are updates you'll be presented with a window like this:
You can see that "Firefox Web Browser" is the first on the security updates list above. Definitely want to choose "Install Now" to get this ship outta the harbor! Once it's all downloaded, yes, you want to restart:
Once it restarts – and Linux tends to be pretty speed on reboot, far more than Windows or Mac systems in my experience – you can go back into Firefox and hit that About Firefox screen to see if it did indeed update: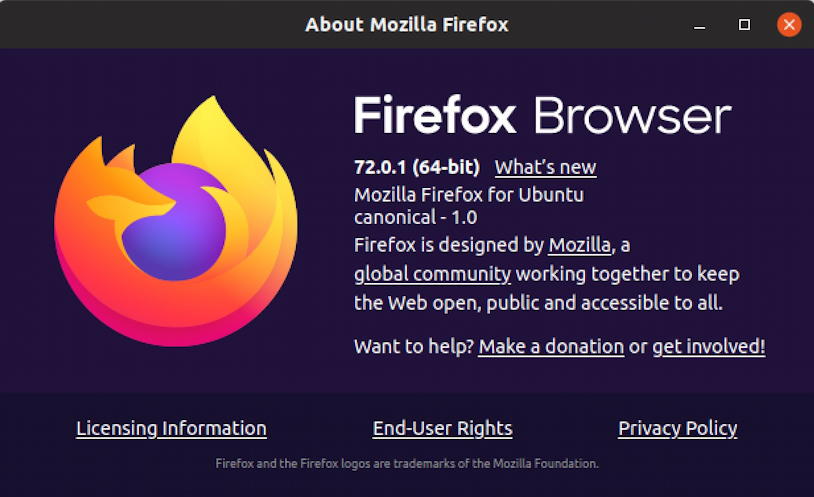 There we go, version 72.0.1. That's a lotta dot-updates between the two. More importantly, it's the most recent release according to the Mozilla [Firefox] known vulnerabilities security page.
Pro Tip: I've been writing about Linux since the very beginning of the operating system, and Unix before that. Please check out my extensive Linux help area here on the site!