I heard a few weeks ago that there was an update to the Apple WatchOS system, but can't figure out how to get it. The watch doesn't indicate that there's a pending update, nor does the Watch app on my iPhone?
Apple has historically done a good job of letting you know when there's an update to the operating system of your Mac, your iPhone, iPad or whatever other Apple devices you may have. Apple Watch, however, is a slightly different beast as the watch itself doesn't seem to have the ability to reach out to the Internet and check on version numbers, and the app is surprisingly discrete about possible updates too.
Which means that for a lot of us Apple Watch owners, we're kind of on our own to remember and check for those updates sporadically. Fortunately, it's just a few taps in the Apple Watch app on your iPhone, you just have to remember to check!
Here's how you can check to see if there's a WatchOS update, and actually update your watch if needed…
First off, let's just start out on the Watch itself. Settings > About tells you the version number of WatchOS:
You can see that on this particular Apple Watch, I'm running version 4.3. But is there a newer version?
To find out, it's time to switch to the Watch app on the iPhone. Simply tap on "My Watch" and you'll find "Software Update" as one of the choices on the screen: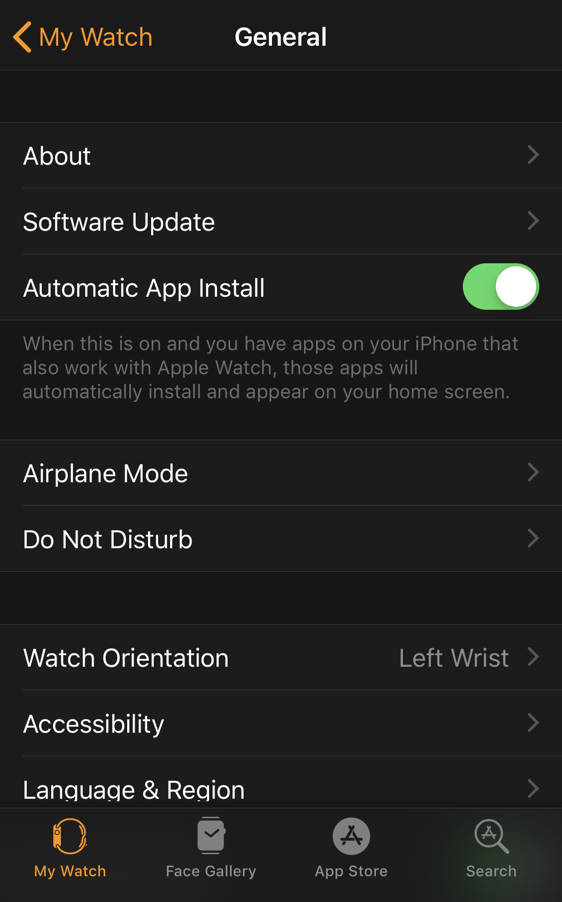 Tap on it and the phone will immediately then check to see if the version of WatchOS you have is the latest…
Everything related to the Apple Watch seems to be 4x slower than anything else on my iPhone, so don't be surprised if the update check takes a few minutes. Wait until you download the new version if you want to see slow, though. 🙂
Finally it either says you're up to date – hurray! – or you get something like this:
Time to upgrade from 4.3 to 4.3.2, apparently. This suggests that I completely missed 4.3.1, but we'll just ignore that issue.
To actually upgrade your Apple Watch, tap on "Download and Install", the orange link half-way down the screen.
The download takes a while (and it's under 100MB, go figure), but where you'll have time to get a cup of tea is when it actually does the install and update.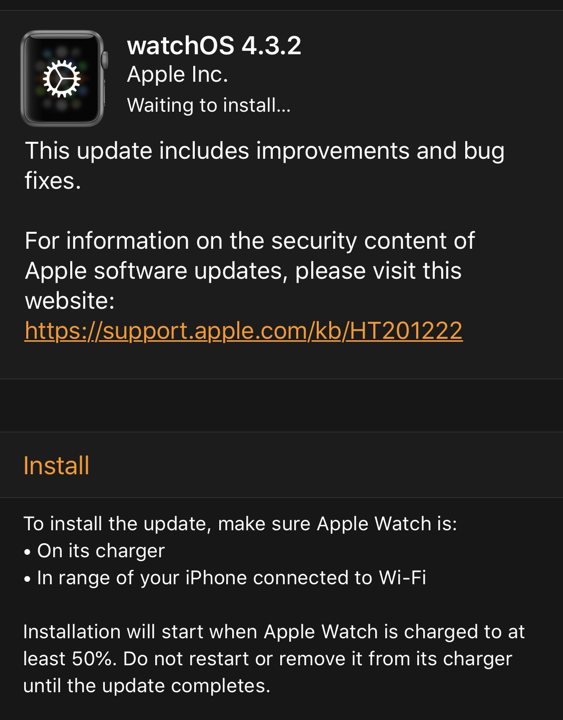 Ready to proceed? Tap on "Install".
And then you might get this error because you're not paying close enough attention:
Fine, fine. Drop your Apple Watch onto its charging stand or otherwise make sure it's connected to its charger. Does it have more than a 50% charge? Then you can tap "OK" to proceed!

At this point it's really going to take a while. I think my update took over 30 minutes to install and restart my watch. My theory is that the data connection between the watch and the phone is just slow, but whatever the deal, have patience and find something else to do while this is going on. Eventually, perhaps after a quick visit to the coffee shop down the street, you'll see this:
Mission accomplished! At least until the next update.
Pro Tip: Have an Apple Watch? Of course you do, if you're reading this! But did you know we have lots of Apple Watch help here on the site? Please check it out while you're here.