I've had a shared calendar with my brother for years since we both use Mac systems. Any family events go on that and we both see them. Handy. But he doesn't want to know about family events anymore. How can I "unshare" this from my Apple Calendar (iCal) program?
One of the great unsung features of Apple Calendar (formerly known as iCal) is that you can set up both shared calendars with others and public calendars that then get a URL allowing anyone to subscribe to the calendar. It's an easy way to be the official schedule keeper for a club, sports team, or even a special holiday calendar. I have a number of shared calendars and for people who are in the Apple ecosystem, those events then show up on their phones, Mac systems, even on the daily summary on their Apple Watch!
But, as you say, what happens when you want to stop sharing? What do you do to sever that tie, either turning a public calendar private again or simply removing someone from a private, shared iCal calendar? Not to worry, it's pretty straightforward and I even have a shared calendar of my own that's long since needed to be unshared, so it gives me the excuse for a demo too…
HOW TO IDENTIFY IF AN APPLE CALENDAR IS SHARED
Let's start by seeing how you can identify which of your calendars are shared with others, which might be subscriptions to online calendars someone else maintains, and which are just your private calendars. The first thing to know is that on the event info itself, there's no indication. For example, this event is shared but you can't tell from what's shown:
If I look at the corresponding calendar on the list of calendars on the left side of the Apple Calendar window, however, there is an iconographic clue: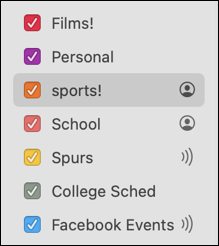 The calendars with a tiny person icon are shared, the ones with the tiny wi-fi-esque waves icon are subscriptions, and the others are my personal calendars. In other words, sports! and School are shared, Spurs and Facebook Events are my subscriptions to public or external calendars, and Films!, Personal, and College Sched are my own private calendars.
Tip: I find that having a number of different calendars, each assigned a different color, is a great way to help organize my schedule. It's easily done and as long as you remember to assign events to the correct calendar, can be quite beneficial for keeping everything, well, on schedule.
If I click on the tiny icon, a little window pops up. On a subscription calendar, it'll show the URL:
Much more interestingly, on a shared calendar that same click-on-icon will reveal who else sees this calendar: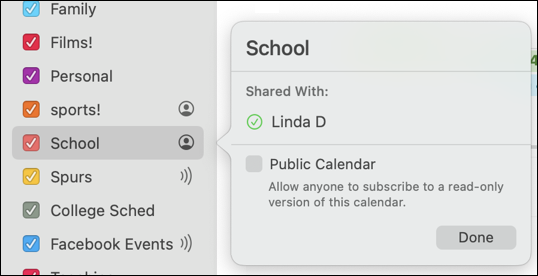 You can see I'm sharing this particular calendar with Linda.
HOW TO STOP SHARING AN ICAL APPLE CALENDAR
Want to add someone else to the share list? You can do that with a click on the green checkmark. A new space opens below it: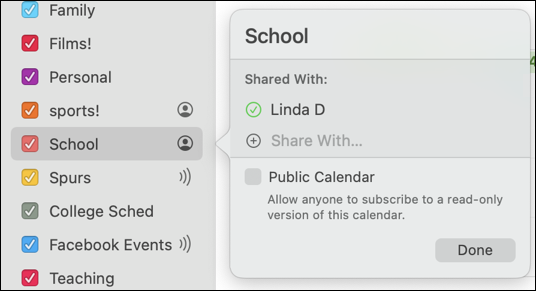 Click on their name and you can verify their share email and even change whether they can add to the calendar or not: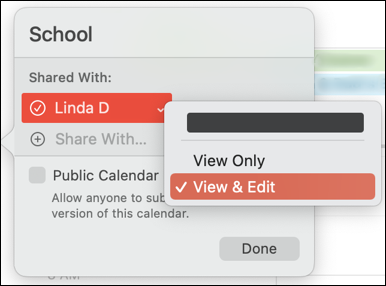 All interesting, but how do you UNshare the calendar? That's done with a Control-Click on the calendar name on the list. It pulls up a different menu of options: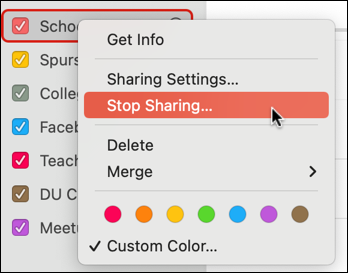 Simply choose "Stop Sharing…" and you'll stop sharing that calendar with everyone. At least, once you confirm: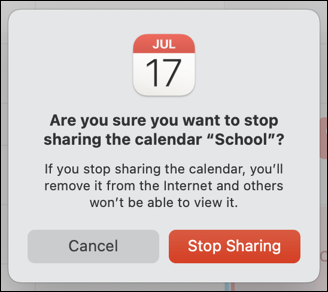 A click on "Stop Sharing" and you're done. Mission accomplished. The calendar even loses its little icon: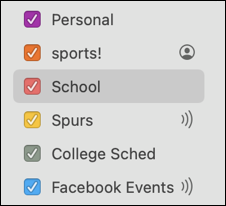 Changed your mind and want to make it a shared calendar again?  You can choose "Sharing Settings…" from the menu revealed when you Control-Click on the calendar name, or you can use a sneaky shortcut: Click on the spot where the share icon would be if you were sharing and this appears:
At this point, you can make it a public calendar (which will then reveal its URL for others to use) or add one or more people to your newly re-shared calendar. Done.
Pro Tip: I have a ton of Mac tutorials and help pages on the site as I've been running MacOS since the early days of the operating system. Please take the time to check 'em out!