I borrowed my dad's Sierra truck for a move and paired my phone so I could use it hands-free while driving. Now I want to delete it before he complains about it. How can I unpair, forget and delete my phone from the GMC infotainment Bluetooth system? Thanks!
While most people still own their own vehicles, there are a lot of situations where you could find yourself driving – or being a passenger – in another vehicle during which period it makes the most sense to pair it via Bluetooth. Hands free is a must for drivers, of course, but even passengers who want to "be DJ" or otherwise supply music or audio content, it's very helpful! Once you've done so, however, it's important from a privacy perspective to delete or forget that device from the system before leaving or returning it. Why? Because when you pair a phone with a car infotainment or entertainment system, you also share all of your contacts so that the voice system will let you specify any of your contacts by name. Helpful, until it's not.
Bluetooth itself might be standardized, but infotainment systems are most definitely not standardized, which means that how you pair and forget a smartphone on a Lamborghini is completely different than a Subaru or Audi. I actually have quite a few guides to working with Bluetooth on various cars here in my Auto Tech Help area, but this time you're specifying a GMC vehicle, which could be a Chevrolet, a Buick, a GMC (like the truck) and more.
FINDING YOUR GMC INFOTAINMENT SYSTEM SETTINGS
You won't actually need to have your phone near you when you go through these steps and they're the same whether you have an iPhone running iOS or an Android phone. That, at least, is standardized. Start on the main "home" screen of the display (I'm using a 2022 Sierra 1500 for this demo):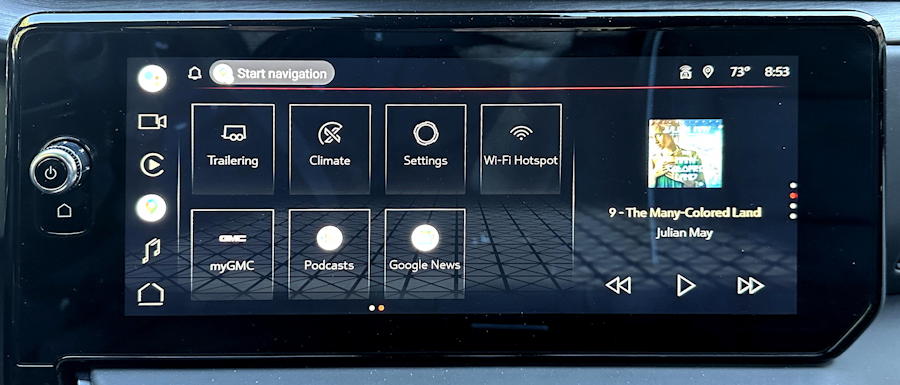 On this generation of the system, a tap on the home icon on the lower left moves you here. This vehicle also has what I call the double-width display, so most of what we'll do takes place on the left display, while the right side shows the current audio source (from the phone, so it'll vanish once I unpair and forget the device too).
Swipe right as needed so you can find the "Settings" button, then tap on it.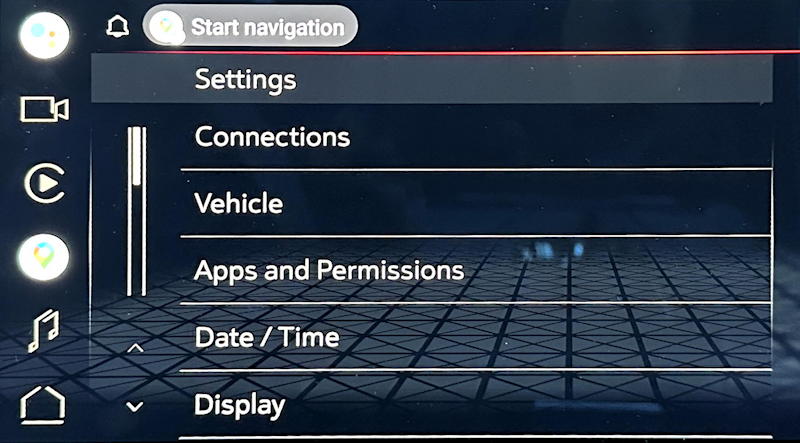 There's quite a bit you can tweak and fiddle with on these GMC vehicles, but to stay on task, tap on "Connections" from this screen.
Almost there. Now tap on "Phones" and you'll see a list of all known telephones in the vehicle:
You can see that my iPhone 14 Pro – named "iDave 14 Pro" – is set up and has wireless Apple CarPlay enabled too.
HOW TO UNPAIR AND FORGET A PHONE IN A GMC VEHICLE
The next step is to tap on "Options" for the phone in question. If you see lots, you might have to swipe side to side to find your own phone on the list. When I do for iDave 14 Pro, I see these options: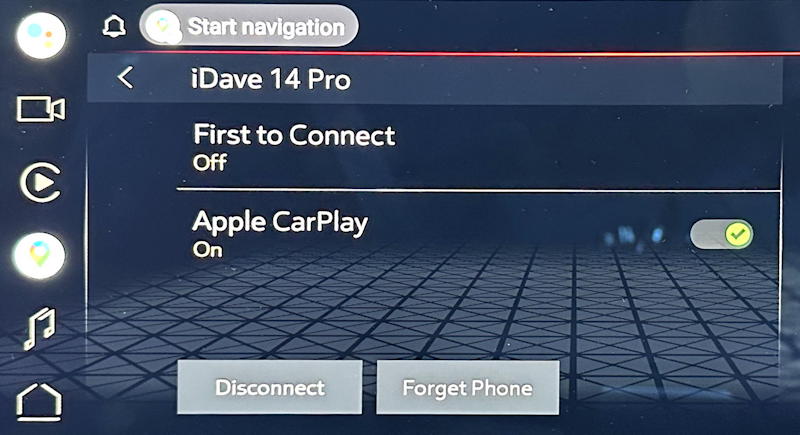 If it's paired, you can tap on "Disconnect" to, well, disconnect it. You can also set it as "first to connect" which makes it the priority phone. In your case, that should be your Dad's phone! Changed your mind about CarPlay? You can disable that too. But what we really want to do is "Forget Phone". Tap on that button.
Now it switches to a full width display for reasons I cannot explain. Maybe they don't want you to be distracted for such an important question? Here's what it prompts:
Sure this is what you want to do? Then tap on "Forget Phone" and after a few moments, you're done.
HOW TO PAIR A NEW PHONE WITH A GMC VEHICLE
Once it's done, a single tile will be shown on the Connections > Phones screen:
If you're guessing that "Add Phone" is how you pair a new smartphone, Android or iPhone, with this GMC vehicle, you'd be right! It's a straightforward process, prompting both on the phone and vehicle as you proceed. You'll be able to enable or omit CarPlay or Android Auto, as desired, and you'll hooked up. Takes maybe 60 seconds total.
Hope that all helps you out with cleaning up the truck before you return it to your Dad. Be a good citizen and consider running it through a carwash too! 🙂
Pro Tip: I've been writing about the tech and devices in your vehicle for many years, including lots of tutorials about how to get the most out of your infotainment system. Please check out my Auto Tech Help area while you're visiting for more useful content!