Dave! I really like Siri but work in a noisy environment and can't talk to my computer and expect it to work. Can I enable Siri on my MacBook Air so I can type in queries and commands?
Ah, Siri. All of these voice interaction systems have been slowly but surely getting quite a bit better, and now they're very capable tools, whether you're using Alexa, Google, or Siri. With the rise of ChatGPT's AI-based text interaction, it's also just a matter of time before that type of response is looped in too, allowing us to say things like "Siri, tell me a funny story about pirates" and have a new tale each time!
One of the great limitations of voice-based interfaces, however, is that they generally require that you're in a quiet environment and that you want to speak to your computer (which means other people can hear you) rather than just type. You're not the first to ask about that, however, so it should be no surprise that all three of the major systems do allow typed interaction. Even Alexa on mobile devices allows you to type in a request, which can be quite handy.
ADD SIRI TO YOUR MAC MENUBAR
The first step is to get Siri to appear on your Mac system in the first place. I like to have the icon on the menubar, which makes it really easy to enter queries with a single mouse click. Interestingly, that control is actually part of Control Center, so go into Settings > Control Center to enable it: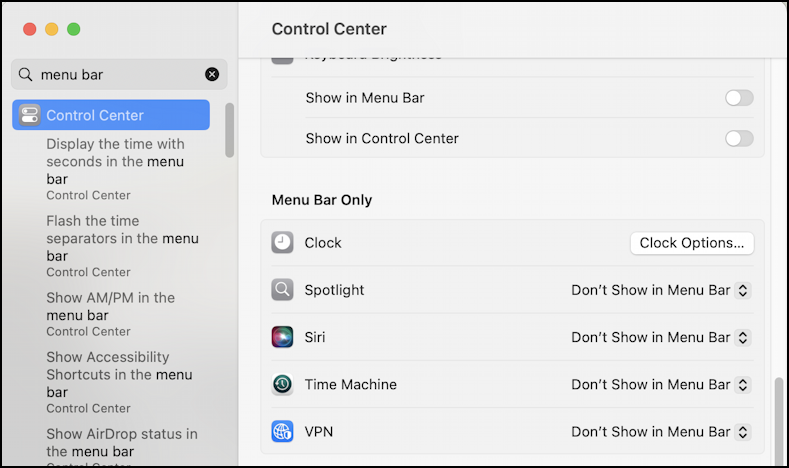 Turns out that there are a lot of useful MacOS features you can add to the menubar (or, as Apple writes it, "Menu Bar"). Not sure why you'd enable Time Machine unless you were constantly retrieving deleted content, but the others make sense. Enable Siri by choosing "Show in Menu Bar" from the options, and a tiny rainbow circle will show up:

Click on it and a tiny window opens up for you to type. If, that is, you've enabled Siri…
HOW TO ENABLE SIRI ON A MAC
While you're in Settings search for "siri" then choose "Siri & Spotlight" from the resultant matches shown:
Here's where you can enable Siri. Notice that enabling Siri and listening for "Hey Siri" are split into two different controls: Enable the former without enabling the latter and it's a type-only interface, just as you desire. If you do enable voice, then you can also choose Siri's response voice. I choose "Australian", but there are a remarkable number of different choices from which to choose!
Click to enable Ask Siri and the system will prompt you with a privacy notice:
If you've never thought about the computer sampling your voice and processing what you say to interpret your meaning, it's worth clicking on "Siri Privacy…" and reading up a bit on the privacy implications and how Apple manages that data. Ready to proceed? Sweet! Click on "Enable".
Now you can click on "Siri Responses…" because there are some really interesting additional settings to consider:
The first option, "Voice feedback", lets you have Siri mirror you: If you type, she will only respond by showing text on the screen, but if you say "hey siri", she'll speak her response. You can have her speak and still show text on the screen with "Always show Siri captions", and, finally, "Always show speech" offers an interesting back-and-forth transcript of your interaction with Siri on your Mac system.
I encourage you to enable all three to see how it works, then disable specific features based on your preferred interaction with her.
Note: Yes, I refer to Siri with a female pronoun. You can refer to Siri as "he" or "it", as you prefer.
INTERACTING WITH SIRI ON A MACBOOK
Now that Siri's enabled and on the Menu Bar, it's easy to click and type. When I click on the rainbow circle icon, a modest window appears:
Now I can type in a query, anything I would say to Siri, like some simple currency conversion: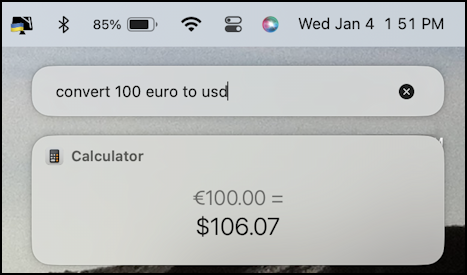 That's about as easy as it gets, right? Now you're ready to interact with Siri directly on your MacBook Air.
Pro Tip: I've been writing about the Mac since the very first system was released. My first Mac was a "fishbowl" Mac SE, back in the day. Please check out my extensive Mac Help Library while you're visiting. Thanks!