I just switched to an iPhone and really like a lot about the iPhone experience. Except if I have my phone on silent, why does it still vibrate and buzz? How do I turn that off?
You're talking about what Apple calls "haptics" (since everything has to have a fancy name) and it's a real innovation in device user interfaces. From game controllers to theater seats, vibrations can definitely convey meaningful information and make your experience more immersive. After all, we "feel" sound. Just as importantly, there are a lot of situations where a ringing device can be distracting or rude, including a classroom, meeting, or movie theater. That subtle buzz is often just enough to alert you and gain your attention.
Unless it's too much. In which case you will want to learn how to either turn off haptics entirely on your phone or selectively disable rings, text message alerts, and more. You can even create custom buzz sequences and assign them to specific people too, so you friend Ellie who calls at the most inappropriate times? A short buzz every few seconds might be plenty of notification.
Let's check it all out.
HOW TO FIND HAPTICS SETTINGS ON AN IPHONE
As with so much else on an iPhone, all of these settings are in the Settings app, which should have already become your new best friend. There are endless ways to tweak and adjust settings to get just the user experience you want! Go into "Settings"…
Now that you know the vibrating effect is called "haptics", it's no surprise that the option you want is "Sounds & Haptics".
Tap on "Sounds & Haptics".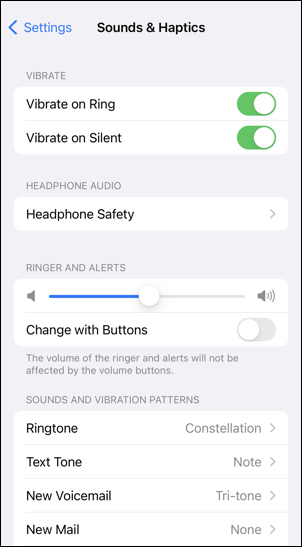 Now you're in the right place
HOW TO ENABLE – OR DISABLE – HAPTICS ON AN IPHONE
You can turn off haptics on ring entirely by tapping to disable both "Vibrate on Ring" and "Vibrate on Silent". Easy enough. I usually have my "Vibrate on Silent" turned OFF so that my phone really is silent, and I suspect that's what you'll want to set too.
But you can fine tune things if you prefer. For example, I currently have "Note" set as the audio signal I have a new text message (in the interface it's listed as "Text Tone"). A tap on that and there's more I can do:
Notice that there are a lot of alert tones from which I can choose but in particular notice the very top option: "Vibration". Why it's not called Haptics here is a puzzle, but it's the same thing. Tap on "Vibration" and there are a surprising number of options:
By default, it'll vibrate in sync with the alert tone, but you can choose a different vibration if you want, like SOS or Heartbeat. Want to create a custom vibration pattern for a specific alert? Tap on "Create New Vibration". Note you can do these for individual contacts in your address book too, allowing custom ringtones and even ring vibrations for friends, family, or your boss!
Finally, note the last choice: "None". If you just don't want a vibration for the specific alert or tone, choose "None" and it'll vanish.
Back up to the main Sounds & Haptics screen, swipe to the bottom, and notice there are yet a few additional choices:
Again, the most important one for our consideration is "System Haptics". Disable that and you won't get vibrations for alerts, notifications, etc. Between all of these, you can now set up your phone to vibrate – or not – as you prefer.
Pro Tip: I've been writing about the Apple iPhone and its many apps for years. While you're here, please do check out my extensive iPhone help area – and my MacOS help library! – for lots more tutorials!