Tip Jar is the latest buzz on Twitter: Now you can now "tip" someone to thank them for a great post! I need to know more about it immediately! How do I tip the best Twitter users starting right now??
Twitter did just release a new feature called Tip Jar that enables a small subset of Twitter users to set up payment options and then receive "tips" from followers who like what they're doing or really vehemently agree with what they've posted. You cannot bill the person if you disagree, however, nor can you sweep all the money out of the tip jar in a rage against their opinion (that would be even more chaotic than Twitter already is!) but if you want to endorse them or their posts, you can do that.
There are, however, some pretty significant limitations to Tip Jar at this point. First off, they have to be selected by Twitter to have access to the feature, then they have to set it up properly. Finally, you have to be on your mobile device because it's only Twitter for Mobile on the iPhone or Android that offers access to this feature. Today, at least.
Is your Twitter account enabled? Simply go to your Edit Profile area and if you have an option for Tip Jar you're enabled. Tap on that link to set things up properly for your fans and followers.
HOW TO TIP SOMEONE ON TWITTER WITH TIP JAR
To test out the feature, I decided I would tip my friend Ef Rodriguez (@pug on Twitter), he's been posting wry and amusing tweets for as long as I can remember. He's a verified account, as you can see with the blue checkmark adjacent to his name:
There's no obvious indication that he's set up his Tip Jar, but he has. Tapping on his name to get to his profile reveals it. In fact, the very first time you look at a profile that does have the Tip Jar set up, you'll get this informative pop-up: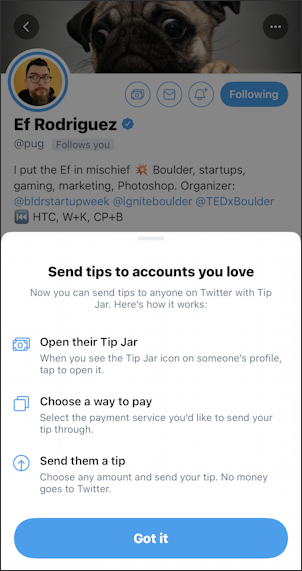 Tap on the "Got it" button to get rid of the window and you'll see that there's a new button on Ef's profile information screen itself, just above the blue 'verified' checkmark icon:
It's very subtle, no question, but the tiny 'stack of dollar bills' icon is how you send a tip!
Interestingly, however, you don't see this button appear on the Twitter Web user interface:
Perhaps the ability to tip someone in Twitter through the Web interface is something that will show up later on, but for now, it's mobile only. So back to mobile we go…
Tapping on the Tip Jar icon in Twitter for Mobile reveals a list of the method or methods of payment that they've set up:
Ef's only set up Venmo (a PayPal company) as a payment option, but it turns out that if you have Tip Jar enabled, you can choose any or all of Bandcamp, Cash App, Patreon, PayPal or Venmo as ways your fans can send you money.
The Venmo integration is a bit clumsy because I now have to go through the Venmo Web page to get to my Venmo app so I can generate a payment transaction, but it's just a click, right? First, a pop-up confirming that this is what I want to do:
Then the Venmo Web page in Safari on the iPhone:
The link that I want is a bit hard to find, but it's "Open in app" just below the big "Sign up to pay" button. Not sure how Twitter could check to know that I have Venmo already installed on my mobile device, but that'd be a better user experience than this intermediate step, I'd say.
In any case, a tap on "Open in app" and I'm in Venmo and can specify the amount and add a fun note: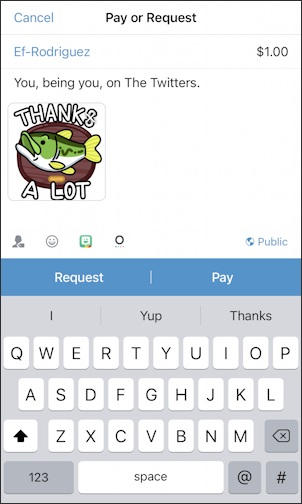 Once everything's ready to go, tap on "Pay" and it's sent.
HOW TO KNOW YOU"VE RECEIVED A TIP JAR PAYMENT IN TWITTER
Twitter doesn't have any way to keep track of transactions, so what will occur if you have the ability to receive Tip Jar payments is that you'll just get notifications from the payment service, as you would for any other transaction.
Ef received this when my Venmo Tip Jar payment went through:

This will show you a running balance for your Venmo account, so we can see that Ef has received $26.02 so far from the Tip Jar feature. Not too bad, that's a nice lunch or a couple of beverages at a local café.
And that's it. Now you know how to find if your favorite Twitter users have Tip Jar set up, how to see if you have it – and how to set it up as desired – and, finally, how to send a tip to someone on Twitter. Handy! Also, thanks, Ef, for your help preparing this article. If you want to follow him too, he's @pug on Twitter.
Pro Tip: I've been involved with Twitter since the very beginning — follow @DaveTaylor — and have been writing tutorials for about as long too. While you're visiting, please do check out my extensive Twitter help area for hundreds of other useful tutorials. Thanks!