I'm pretty upset with the state of the world right now and would like to change my Instagram profile photo to solid black for a few days. How can I temporarily change my profile photo?
While Facebook has the concept of temporary changes to profile photos, that hasn't migrated to Instagram, even though it's part of the same company. So the bad news is that there is no "temporary" change; you'll have to determine for yourself how long you want the new photo and then change it back when you're ready. Fortunately, it's the same process both times and is easily accomplished directly through the Instagram app on your smartphone, whether you're on Android or an iPhone.
The easiest strategy is to start by ensuring you have the appropriate photo in your Camera Roll on your phone. For something as simple as a solid black image, you can create one in an editor, take a photo with the camera lens covered or just grab one from Google Images or similar and save it to your device. Have an image ready to go? Then let's change things!
To start out, here's Instagram for Mobile on my iPhone: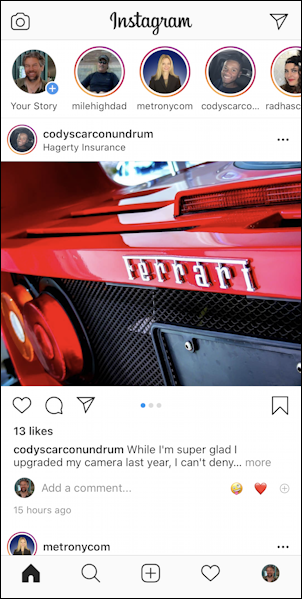 It's really the strip of icons along the bottom that are important here, specifically the icon with the tiny photo on the lower right corner. That's my photo really small and is how to access my own profile. A tap on it reveals…
You might be lulled into thinking that tapping on your photo at this point lets you change your profile picture, but it doesn't. It lets you add to your story. That's different! Instead, tap on the "Edit Profile"…
If you're guessing that the "Change Profile Photo" link is a solid choice at this point, you're right! Woot! Tap on "Change Profile Photo" after you've had a chance to peruse the other information shown (I know you're going to view it!) and you'll be able to change your profile image:
Quite a few options, really. You can remove your photo but it's the other options you want to consider. For example, you could Take Photo and just put your hand over the camera lens, or Import from Facebook to see if you have the appropriate image available there. But if you've already saved an appropriate photo or image that you want to utilize, instead tap on Choose from Library.
Now you'll see a gallery of all the photos on your camera roll on the device. In the below I've already chosen a solid black square:
For a regular photo, you could zoom in and pan around to get your face centered and the right size, but in this instance, there's no point so as long as your image fits the entire circle, you're good to proceed. Tap on "Done" on the top right to proceed.
Is that what you want? Then save the new profile photo onto your Instagram account by tapping on "Done" on the top right.
Done. Not too bad, really, and when you're ready to switch things back, you can follow the same path but choose a photo of yourself to use instead. At that point the zoom and pan features during photo selection will be more important too.
Note: We at AskDaveTaylor also passionately support equality, dignity and freedom for all, regardless, of gender, race, age, sexual preferences, education level or anything else. Black Lives Matter.
Pro Tip: I've been writing about Instagram for quite a while. Please check out my Instagram help library while you're visiting and why not follow me on Instagram too? Just look for d1taylor to find me there!