Now that I just scored a Dell Venue 8 Pro tablet through the Microsoft Store – for $99! – I'm psyched to have it, but am a bit lost with functionality. How do I take a picture with the built-in camera?
You ask a great question: it's one thing to run Windows 8 on your PC and something entirely different to hvae it on a tablet. On a smartphone you'd be running Windows for Mobile so that's not quite the same thing, but the Dell Venue 8 Pro runs regular Windows 8 (well, 8.1 now) so you're left navigating a far more complex, richer operating system than on Android or iOS tablets.
The upside is that you'll finally get to really enjoy the Windows 8 experience, because it's 10x better on a touch device like the Venue 8 than it is on a desktop PC with a mouse. Things make more sense, the gestures are easier to learn, and once you get the hang of it, you really can zip around remarkably quickly.  Of course, some of that speed comes from the Intel "Bay Trail" CPU inside the unit too: it's one of the fastest tablets we've ever used here at AskDaveTaylor.
Because it's a full OS, Windows 8 offers a number of tiles that look, well, generic, and the camera is one of those.
Here, quick, find the Camera app: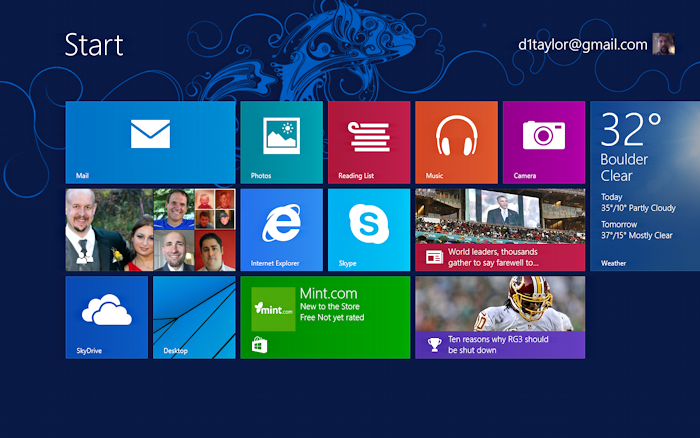 See it? Purple, next to the current weather display in Boulder, Colorado?
That's the one. Tap on it and you'll see a live view of what the Venue 8 Pro camera sees: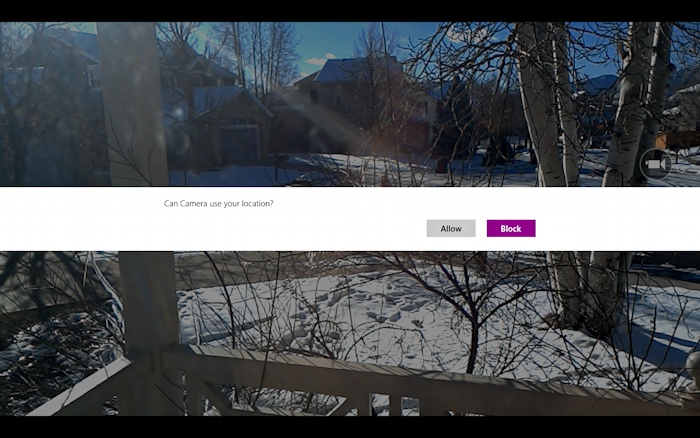 First question is whether the tablet should embed geolocation information in the photos you see. I allow it, but it's worth remembering when you share photos from your tablet — or smartphone — that they embed exact latitude / longitude information so anyone can figure out exactly where you took the photo. A problem if it's in front of your house, needless to say.
Allow or Block, your call. Then you'll be able to move your tablet around to frame the perfect photo.
Ready? Tap on the "Camera" icon on the right to take a photograph, or on the "Video" icon to make a short movie: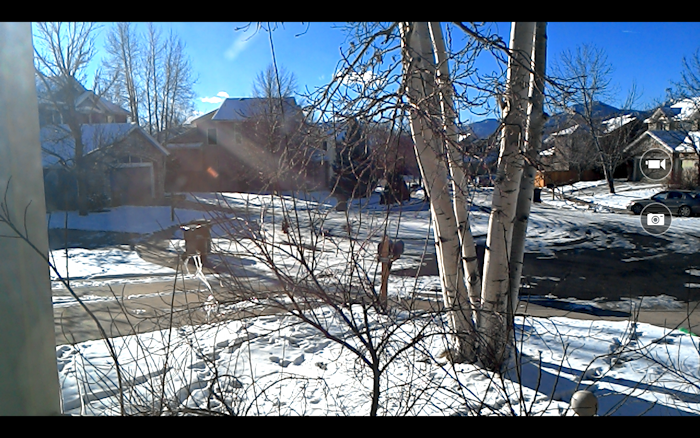 I'll choose to take a photograph by tapping on the camera icon and it shows up tucked into the lower left: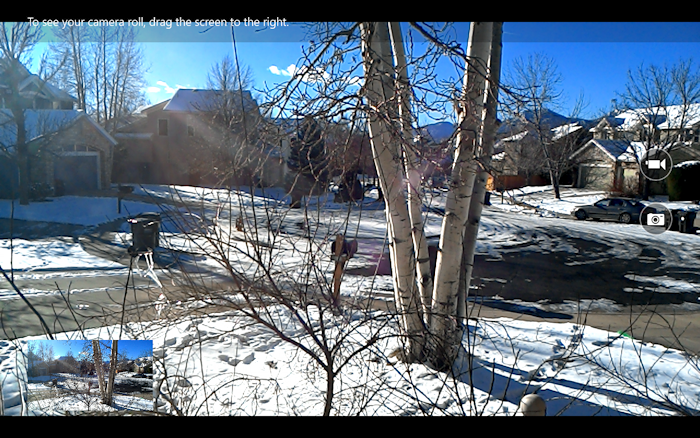 Notice on the top left it says "To see your camera roll, drag the screen to the right". That's helpful!
Do that and you'll see the photo you just took: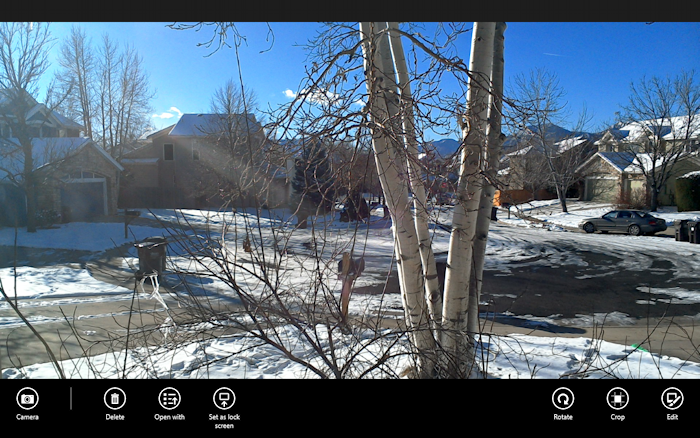 If you don't see all these options along the bottom, tap the screen once.
Notice here all the options. From left to right it's "Camera" (to switch back to the camera), "Delete", "Open With", "Set as lock screen", "Rotate", "Crop" and "Edit". Lots of options!
Let's start by cropping it. Tap on "Crop" and the selection box appears:
You can tap and drag any of the four corners to make the picture as large or small as you'd like.
In this case, I'm going to crop it pretty tight to get rid of the trashcan on the left of the image.
Done? Tap on "Apply".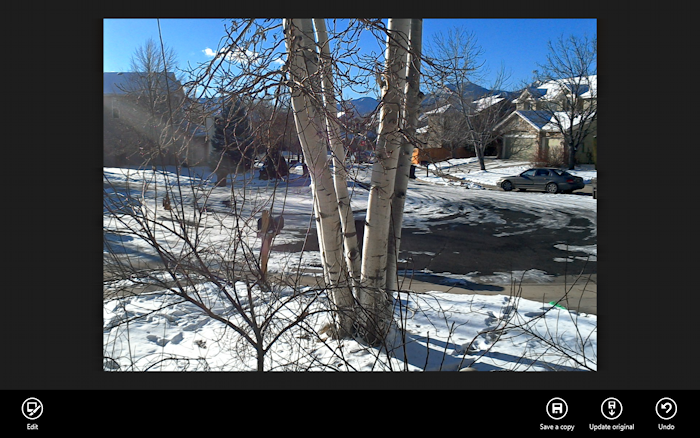 Now you need to decide if you want to create a new photo with the cropped image or overwrite the existing photograph with this newly cropped – or otherwise edited – image. I'll "Update original".
Before we leave, just a teaser: here's what you'd get if you tap "Edit" on that first photo viewing screen: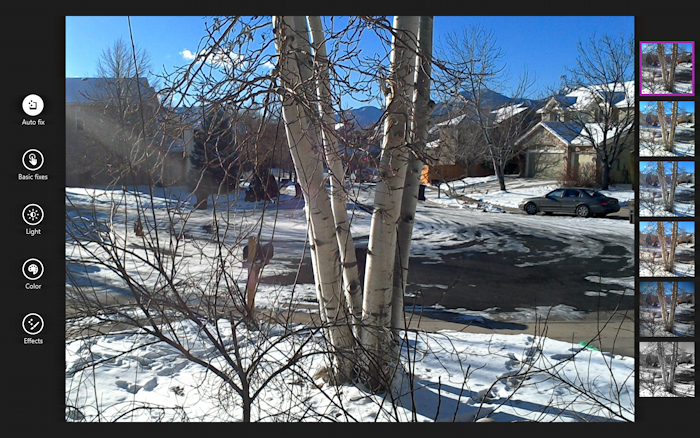 Lots of ways to tweak and improve the image!
Done? Tap on "Camera" or swipe back to the left and you're ready to take another photograph on your Dell Venue 8 Pro.