I love the idea that people can find photos and content based on location so I always endeavor to tag the location when posting on Facebook. But when I'm no longer in that location, is there a way to tag the place after the fact? If so, how?
When you take photos with a smartphone, it actually includes information on your location. That's stored in what's known as the "Exchangeable Image File Format" (EXIF) data, and it's in the form of a latitude/longitude pair. They can be pretty specific, though, just as your phone knows where you are within a few feet. Some systems can therefore automatically locate where a photo was taken, but you can imagine the danger of that when it comes to social media: Do you want the world at large to know the exact location of your home because you posted a cute cat pic? Not so much.
The good news is that Facebook defaults to removing all the EXIF information from photos you upload, but that you can still manually tag photos to be in any location known to the system. This means you can take a photo of the faux Eiffel Tower in Las Vegas and tag it as being the real Eiffel Tower in Paris if you are so inclined, but with a bit less mischief you can post older photos and correctly identify their location even if you're thousands of miles away or the photo was taken years ago! It's just another step on the path to preparing a good Facebook post…
HOW TO POST OLD PHOTOS TO FACEBOOK
As with every post, start by clicking in the "What's on your mind" field. That pops up a bigger window that lets you more easily compose your new content: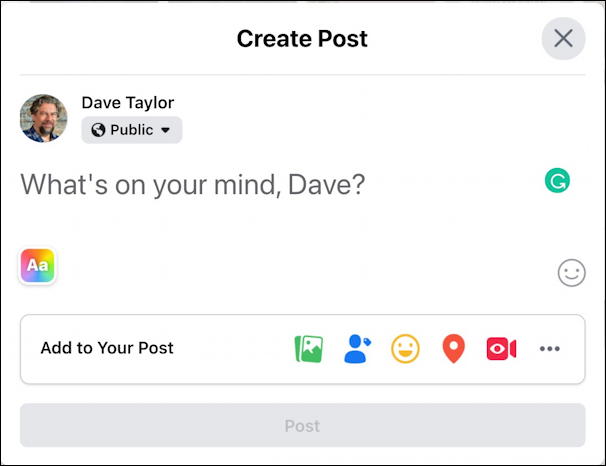 If you're an active Facebook user like me – Find me on Facebook as AskDaveTaylor! – then you've seen this window hundreds of times. To post a photo, simply click on the green "photo or video" icon in the Add to Your Post box. Identify your image and it'll show up: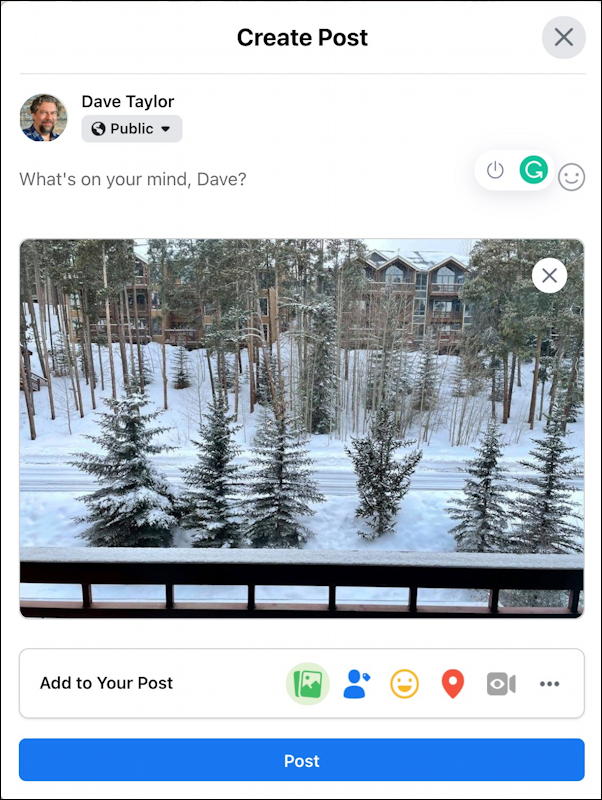 While the image has shown up in the compose window, there's no actual geographic location info, so this could be from almost anywhere in the world!
GEOTAG PHOTOGRAPH LOCATION IN FACEBOOK
To identify the location of the photograph, you'll need to use another of the icons in the Add to Your Post box: The red pushpin icon lets you identify the location. Click on it, however, and it'll show locations based on where you are or the most recent locations you've tagged. For me, this list is:
None of those are particularly snowy right now, and certainly, none are the location of the photo posted. But you can search for any location you want in this box, as it happens! I'll search for "valdoro", which is the name of the resort we were staying in up in Breckenridge, Colorado, when I took this photo out the back patio:
There it is, the first match, Valdoro Mountain Lodge in Breckenridge, Colorado. I click to choose that and the photo is now properly tagged by location. Well, the post is tagged by location, which arguably isn't quite the same thing, but for the purposes of sharing on Facebook, that's as close as we'll get.
ADD A FUN FEELING DESCRIPTOR TO YOUR FACEBOOK POST
Before I post this photo, I want to also add a "feeling" descriptor to make it a bit more fun. Why not, right? To do that, click on the "•••" within the Add to Your Post box, and it's replaced with a list of even more things you can Add to Your Post, as shown:
I've added a photo and identified a location (Facebook shows it as "checked in"), so it's time to click on "Feeling/Activity" to proceed. This brings up a huge list of possibilities, so click on "Feelings" and type in a few letters that begin the word to describe your feelings / emotional state. I was relaxed when I took that photo so I'll start to type "relaxed"…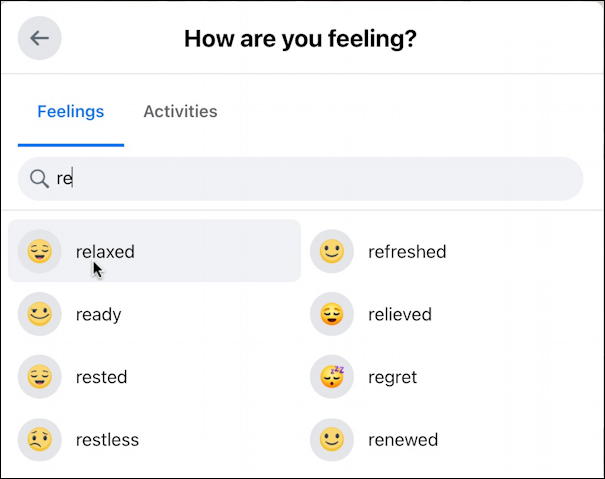 There it is, the "relaxed" feeling for my Facebook post. A click and it's selected.
All that's left is to actually type in an associated description, commentary, or similar. here's what I came up with: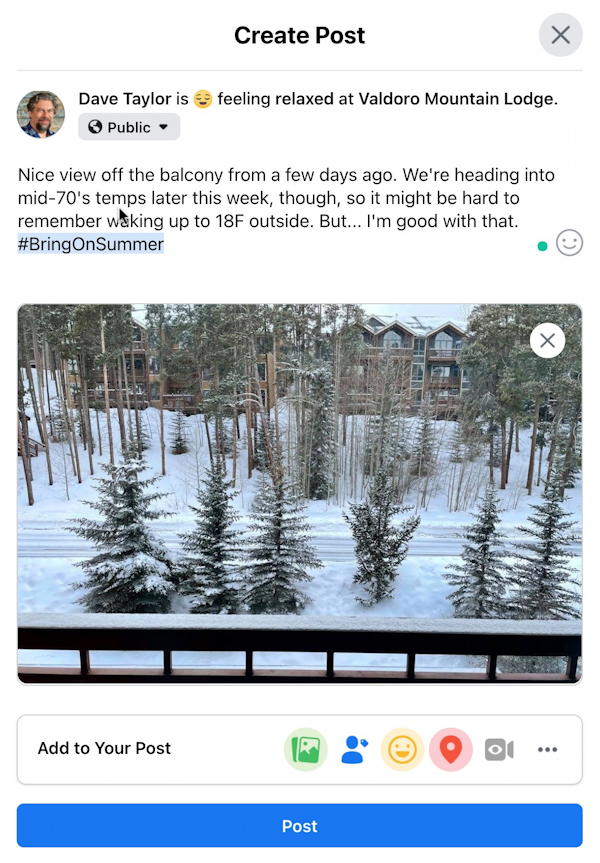 Notice that I included a hashtag #BringOnSummer to even further help people find my post if they're poking about on Facebook. All looks good? No typos? Nothing you'll regret a week from now? Then click "Post" to proceed!
Here's the end result:
Notice the very top: "Dave Taylor is feeling relaxed at Valdoro Mountain Lodge", and below it, "Just now – Breckenridge". Perfect!
Pro Tip: I've been writing about Facebook since it first came online. Please check out my extensive Facebook help library for tons more useful tutorials while you're visiting. And why not follow AskDaveTaylor on Facebook too, while you're clicking? Thanks!