Jumped onto the new Instagram-powered "Threads" social network? Congrats. Tired of random people showing up in your feed, however? Here's how to switch to a Followers Only feed in the app…
For a social network that's only been around a few weeks, Threads is surprisingly dynamic and popular, far more than most other new social networks I've tried in the last few years. Part of that might be the apparent implosion of "X" (neé Twitter) which just ain't what it used to be, but part of it is because Threads doesn't yet have advertising, making it feel a bit retro, like social networks before they became yet another sponsored media channel.
While Threads has all its basic features and functions covered, it's also very much a work in progress, with the development team building it out as fast as they can. One of the most obvious missing features was the ability to have your newsfeed be just people you follow. Not random other people or companies, not "first posts from non-follows", just your own social circle. As of the last July update, however, you can now switch to just that view. You will need to have the very latest version of the Threads app, so make sure you check for updates before you proceed. There's no way currently to check your version number within the app. All up-to-date? Great!
Oh! Just getting started with Threads? Check out my How to Get Started with Threads by Instagram for lots more useful tips!
HOW TO SWITCH TO FOLLOWING FEED IN THREADS
The switch is surprisingly easy once you're on the right version, though it's a hidden feature. Here's my "Home" Threads feed that I see by tapping on the tiny home icon on the lower left of the app screen:
Looks pretty typical and I believe I follow both of these posters, as it happens. But tap on the Threads logo at the top and a new option magically appears:
To switch from the algorithmic "For you" newsfeed to a feed more narrowly defined as just the people and accounts that you're following in Threads, tap on "Following". That's it. Easy enough!
At this point, don't be surprised if you find that there are accounts showing up that you don't recall following. In my case, it's @cocorocha. You can easily unfollow these accounts with just a few taps
UNFOLLOWING SOMEONE ON THREADS
Tap on the "•••" just to the right of the timestamp that indicates when they posted this content. A small menu appears:
If you want to hide just this post, choose "Hide". Want to hide this post and any responses or replies it garners? That's what "Mute" does. Finally, to sever your following tie with a Threads account, tap on "Unfollow". When I do that…
You can change your mind if you want by tapping "Cancel", but also keep in mind that unfollowing someone does not generate any sort of notification or alert, so they won't know you've done it. Since I am unsure how I followed cocorocha in the first place, I am going to unfollow this account. Now when I reload, my "Following" newsfeed is updated to omit their posts.
CLEAN UP YOUR "FOR YOU" THREADS FEED
If you want to stick with the "For you" feed, you can also clean it up a bit too in the Threads preferences. Well, they're not called "Preferences", but tap on the profile silhouette icon on the lower right of the bottom toolbar to move to your profile. Here's mine, I'm @d1taylor on Threads:
From here, tap on the two horizontal lines in the top right, just above your profile picture. It brings up a menu:
These are all "Settings", though it doesn't seem very well organized. That's okay. Tap on "Notifications".
Now choose "Following and followers" and scroll to the bottom…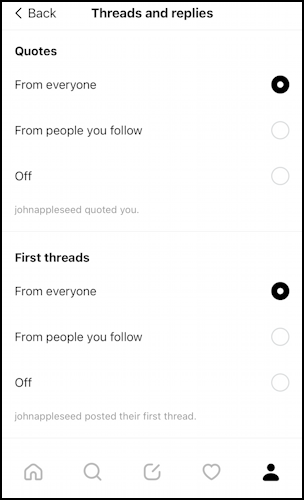 My experience with Threads is that the worst offender for having posts show up from people you don't know is the "First threads" setting. It's fun for discovering new people and content, but it can also be pretty far off from what you're interested in tracking. Solution: Choose "From people you follow" and it will promptly improve your experience. Now, have fun on Threads!
Pro Tip: I've been writing about Instagram for quite a while and am just starting to document Threads. Please check out my Instagram help library while you're visiting and why not follow me on Threads too? Just look for @d1taylor to find me there!