I've been using a PIN forever and it works, but my friend has a cool unlock swipe pattern. He just zips his finger across the screen and it's unlocked. Cool. How can I switch to use that too?
Turns out that there are a remarkable number of different ways you can unlock an Android phone. Depending on the hardware support, you can use your face, your fingerprint, your voice, probably even you biorhythms. Okay, I made up that last one! Still, with so many biometrics – and even some "proximity to other devices" unlock options (e.g., your smartwatch) – it's no surprise that smart Android users try various approaches to figure out their preferred security solution. The most important thing, particularly for a mobile device that can be lost or left behind, is that you have a security solution that's better than "0000" as a PIN.
Ha! I can hear you laugh! But it turns out that I get mail from readers asking about how to defeat all security on their mobile devices, whether an iPhone or Android device, and it always makes me cringe. A home PC, maybe, but a device that you take with you everywhere? Oh, please don't just disable security, y'all. It only takes once to immediately understand why that's such a bad idea…
Anyway, let's jump in. All security settings are changed through the Settings app, so jump into Settings, then tap the magnifying lens icon to search for 'pattern':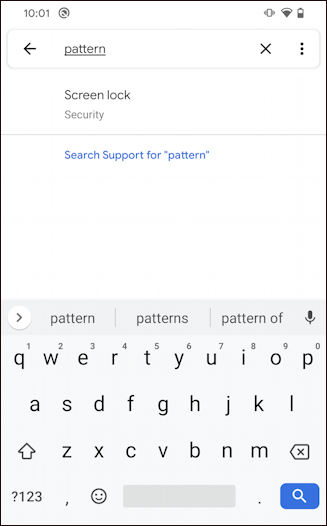 There ya go, the one match is what you want: Screen lock / Security. Tap on it.
Here's what you'll see. Lots of important security settings, actually: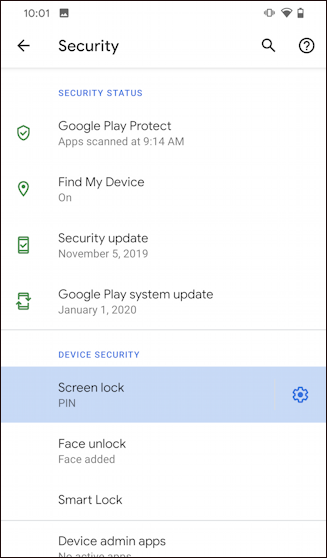 I recommend you keep everything updated and enable Find My Device in case you do lose it. Lower down on Device Security, notice my Screen lock setting is "PIN". Okay, I can change that! Yours might be something else, of course, and also note that I have Face unlock enabled on this device too. A tap on "Screen lock" and…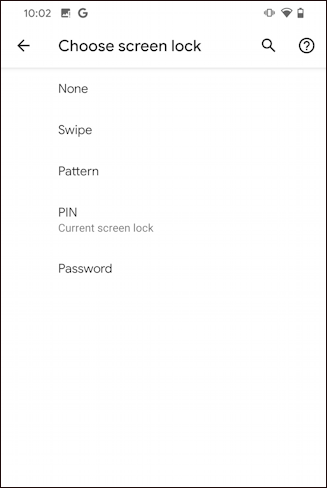 So here are all the main options. Password (yes, old school), PIN, Pattern, Swipe and None. The difference between Swipe and None are quite minimal: Swipe means "swipe your finger up from the bottom of the screen and it's unlocked". None means "if the screen's lit up, it's unlocked and ready to go". Both, obviously, aren't really any security at all.
You want to try Pattern, so tap on that option to proceed.
Now you simply tap and drag your finger across or around the grid to specify your pattern. Make it fairly complex as it can otherwise be surprisingly easy to guess and crack, as WIRED reported a few years ago.
Since I'm just doing this as a demo, I'll use something really simple:
Note that you can only hit each of the nine points once, so there are a really small number of patterns you can make without lifting up your finger. Even a four digit PIN gives you a lot more options (10,000, actually).
Anyway, enter the pattern twice and you'll be all set. In fact, that'll then show up as the screen lock option of choice in your Settings:
More importantly, lock your phone and go to unlock it and you'll have that grid of dots ready to receive your swiped unlock:
I've already talked a little bit about security, but just remember that the easier you make it for you to get into your phone, the easier you make it for a criminal or curious finder-of-lost-phones to get into all of your accounts and personal data. I switched mine back to a 5-digit PIN after doing all these screen shots, personally, because that offers up 100,000 possibilities, which makes guessing pretty darn hard and also means it's also a lot more difficult for someone to eyeball your screen and guess.
Pro Tip: I have a lot of handy Android help pages here on the site. Please check out my Android help area before you split! Thanks.