I was reading on a tech blog that there are third party apps Google has allowed into my account that can read my Gmail messages and even send messages as if I'd sent them? That seems like a horrible idea! Where can I check to see if I'm at risk and turn off this third party access?
While it's true that many people grant access permissions to third party apps that end with them potentially having read and write access to your Gmail account and the messages therein, that doesn't mean they're actually doing so. The key word here is "potentially". So I think it's important not to be too alarmist about what's going on.
Google has been working on its security and privacy features for the entire life of the company and as time has passed, we have gained a lot more insight into exactly what's going on and a lot more control over what data and information – if any – we want to share with third parties. But again, let's start by emphasizing that this has so far proven benign in the Google account world.
But let's have a look anyway! To start, go to your Google Accounts home page. That's found at https://myaccount.google.com/ if you want to type it in rather than trust my clickable link. It's okay, I get it. 🙂
When you get there, it's a bright, cheery page:
Definitely an area worth exploring when you have some time, but let's stay focused on this task. Click on the first major category "Sign-in & Security".
Now you'll see another big screen of options:
I strongly suggest you veer away for a minute or two and open up the Security Check-up in a different window in your browser (try command-click on the link) and check all of those settings out. Done? Close that window and you're back with us exploring Gmail third party app access. 🙂
What you want is actually on the left menu area, not in the main window. Let's look just a bit closer: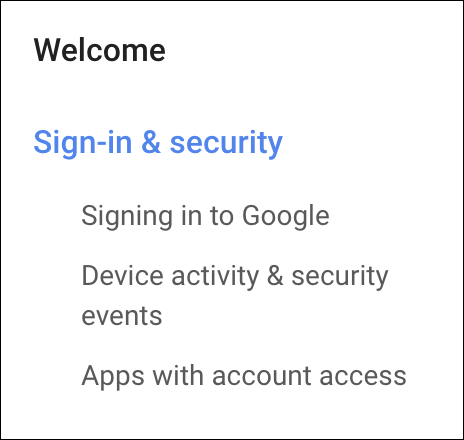 It's that last option that you want to click on: Apps with account access. Honestly, just thinking that there are third party apps with access to my various Google account areas makes me get a bit itchy!
Here's what you see, though since it lists Google apps too, you'll probably not get much information from this particular view:
Where the fun begins is when you click on the blue "MANAGE APPS" link on the lower left. Now you get more information from which you can make an informed decision about which apps should have access:
Check out the third entry on my list: Boomerang for Gmail. It's a third party app and, as the page shows, it "has access to Gmail". Well, hmmm, I tried the Boomerang service a few years ago but certainly don't use it now, so I don't need it to retain access to my Gmail!
To remove permission or just to learn more about what's happening, simply click on the entry. A new info window appears:
Read that info carefully: Boomerang has "read, send, delete and manage" access to my email. Now the purpose of the app is to let you defer sending messages, so it needs to be able to read (to save your pending message) and send (when the time comes to actually send it) so there's nothing nefarious there, but… if I'm not using Boomerang anyway, why grant this access to the third party app?
To shut it down simply click on the big blue "REMOVE ACCESS" link on the top right. You'll get a confirmation dialog:
Ayup, that's the plan, Stan. Click on "OK" to proceed and you've just taken one step towards cleaning up and streamlining what third party apps have access to your Gmail account. Nicely done.
Pro Tip: I have a ton of Gmail help on the site, please take a few minutes to check it out!