I love Netflix, but browsing for new material is a nightmare. Every time I'm on a show or movie for more than a second or two, the preview starts to play. And it's loud and often not at all the kind of content I seek. I hate that preview autoplay, Dave! Is there a way to disable it?
You might think that displaying information on a collection of movies and TV shows would be a fairly easy task but for as long as Netflix has been around, it's been tinkering with the user interface. Back in the old days, it was basically a DVD-by-mail service and the interface was basically via a Web browser. $3.49 a disk mailed directly to your house! When there's relatively little content – like Apple TV+ – it's not too critical to have the browse and discover features be that great, but when you consider the thousands of series and movies that Netflix has, it's a lot more complicated to ensure we can find fun and interesting new content. Plus, if it looked identical every time you connected on your phone, computer, or TV, well, you'd assume nothing changed and get bored with the service.
All of which is to say that the preview autoplay feature in Netflix is intended to help us find interesting new content that piques our interest and while it can be a good discovery tool, it's often not. In fact, asking about how to disable it is one of the most common questions on the Netflix Reddit group!
And, as of February, 2020, you finally can do just that.
But let's start with a historical screen capture of the Netflix home page circa 1999: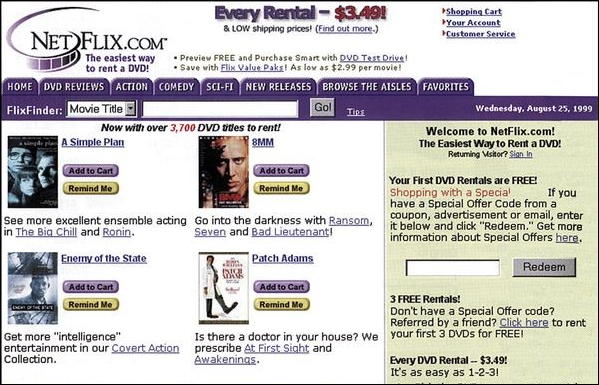 Four movies shown and a banner affirming "Now with over 3,700 DVD titles to rent!" We've moved along quite a bit in the evolution of TV, the Internet and streaming video content services, that's for sure!
Know how when you get to the end of an episode of a series on Netflix that it automatically plays another episode? That's called "autoplay next episode" on Netflix and looks like this:

Turns out you can disable that feature too if it's responsible for keeping you up too darn late night after night. 🙂  In fact, the controls are located in exactly the same place.
But you have to log in to Netflix via a Web browser to get to them. That's right, you can't get to these settings on your TV, tablet or in the Netflix app on your phone. Log in by going to www.netflix.com and you'll be able to choose which profile you want to use:
You can see that ours are a bit whimsical and yes, it's true, our dogs and cats have their own Netflix profile too!
What you want to do here is click on "Manage Profiles" then choose your own profile from the list.
You'll be able to change the picture and name: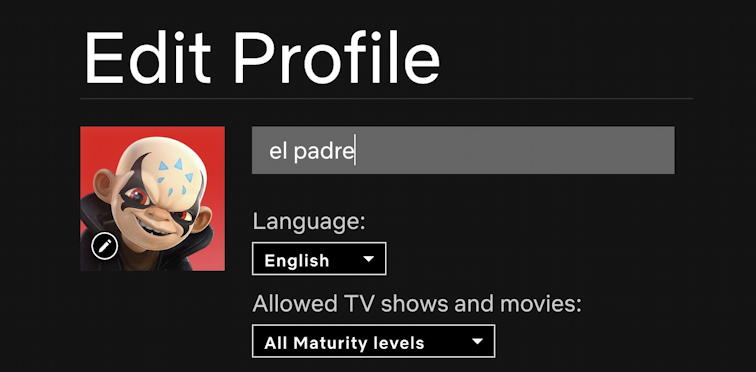 Note that you can limit content for your children's accounts here (though it's not particularly great parental controls). Much more importantly, below these set of options are the two checkboxes that people have been asking about for years:

The first choice, Autoplay next episode in a series on all devices. can enable or disable the automatic progress to subsequent episodes when you're watching a series. Yes, it's the end of binge watching! Well, it can be: you'll still see the button for the next episode, you'll just have to actually click or tap on it to proceed.
That second choice is what you seek, however, Autoplay previews while browsing on all devices. Uncheck this and your Netflix browsing experience will be quite different and quite a bit calmer too.
Me? I have both checked for now, but knowing I can disable or stop autoplay previews on Netflix definitely is a good thing.
Pro Tip: I've been writing about Netflix and the rest of the Internet for many years. Please check out my extensive computer help area for tons of additional how-to guides, all with copious screenshots!