My kids keep telling our Amazon Echo unit to order candy and comic books. I'd like to just disable it, rather than argue with them. It'll also save me throwing Alexa through the window one afternoon! Is there a way to disable voice shopping?
Sounds like your kids have it all worked out with the Alexa. Add the Pizza Hut voice delivery skill "Alexa, ask Pizza Hut to place an order" to their existing "Alexa, order butterfingers" and "Alexa, order the latest astonishing x-men" requests and you've got kid heaven. Unfortunately we adults need to pay the bill, so in fact it's probably a smart thing to change the settings on your Amazon Echo unit to ensure that voice purchasing is disabled, or only enabled with a four digit PIN you can set.
Actually, if you haven't gone screen by screen through the many settings and options with your Alexa, you might be surprised how it's set up by default. Remember, though, you can't do this with the Echo itself, you have to do everything with the paired app on your smartphone, whether it's an iPhone or an Android device. But you've already set it up so you should be good to go. For me, all the Echo devices I own are managed through the iPhone Alexa app, so that's where I'll start…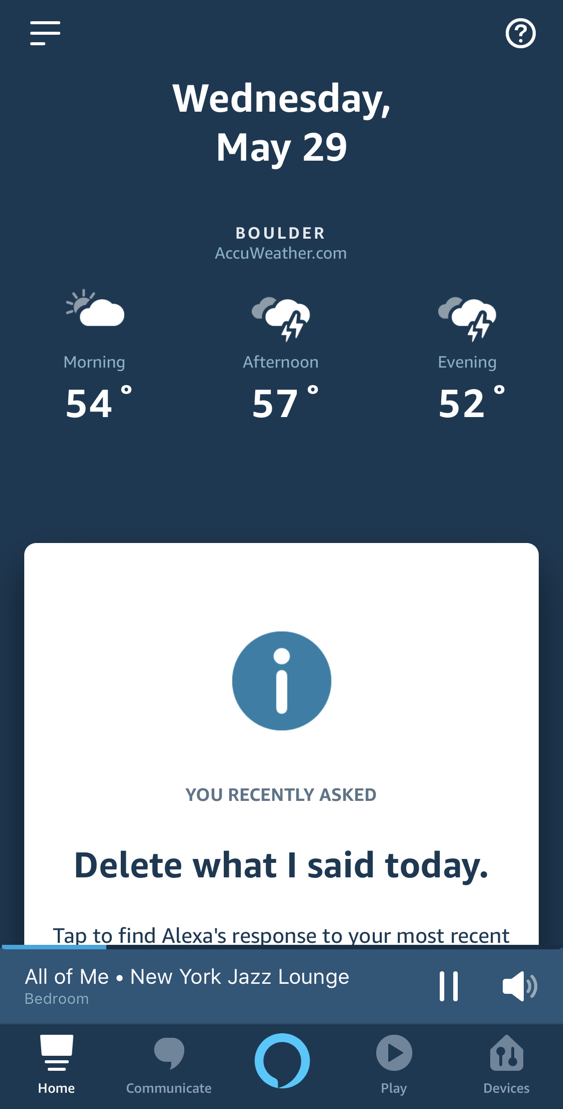 You can see I'm listening to "All of Me" from the Spotify playlist "New York Jazz Lounge" too, along with my location and the weather forecast. A typical rainy spring day, really.
To make changes, you access Settings through the three horizontal lines icon on the very top left. Tap on it and a menu appears: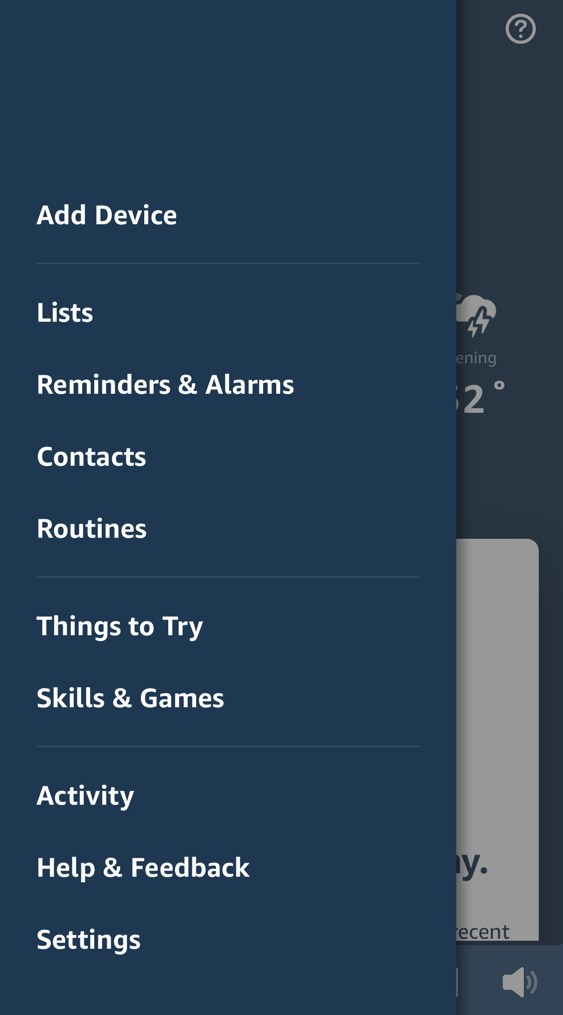 Quite a few different areas to explore – check out Routines for some fun, or Skills & Games to see what a lot of smart developers are doing to expand and extend the system – but for this task you want to tap on Settings at the bottom of the menu.
That brings up this set of options: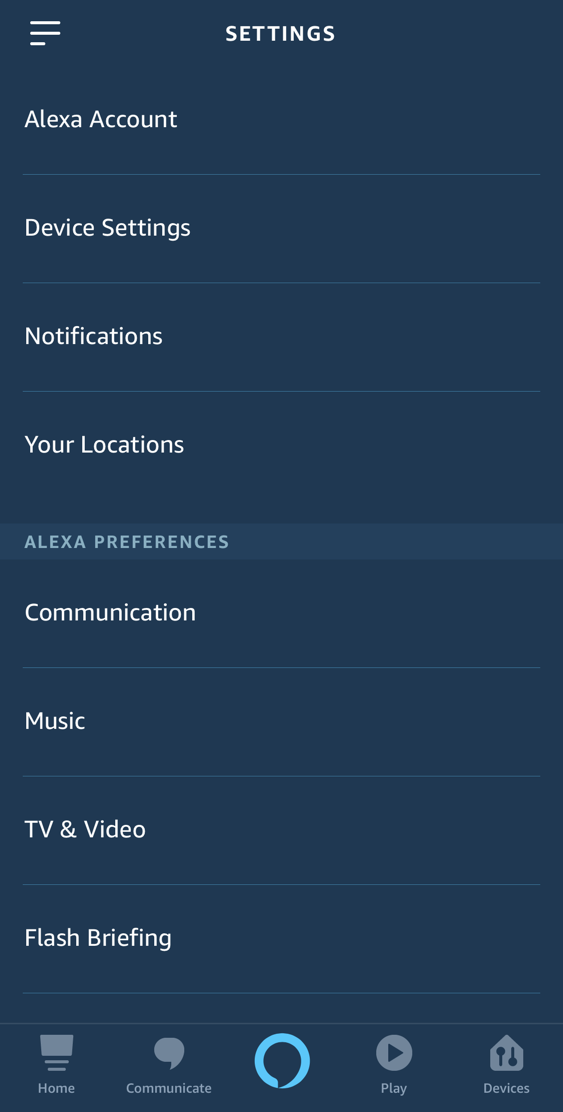 Again, quite a few options and choices. I'll stay focused on the task at hand, however. Tap on "Alexa Account"  to proceed.
This time there are fewer options:
You should definitely check out History while you're in this area of the app, but for now, tap on Voice Purchasing to change or disable the voice purchasing feature in Alexa.
If it's disabled already, you'll see this: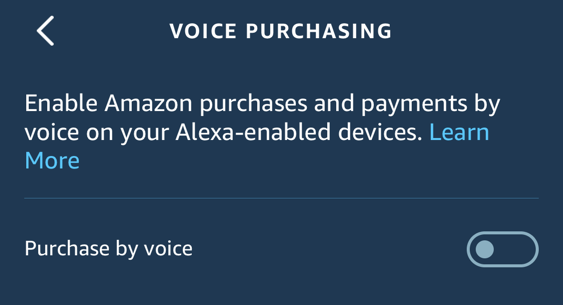 If you already have it enabled, or decide to enable voice purchasing on your Echo units, it'll look like this instead: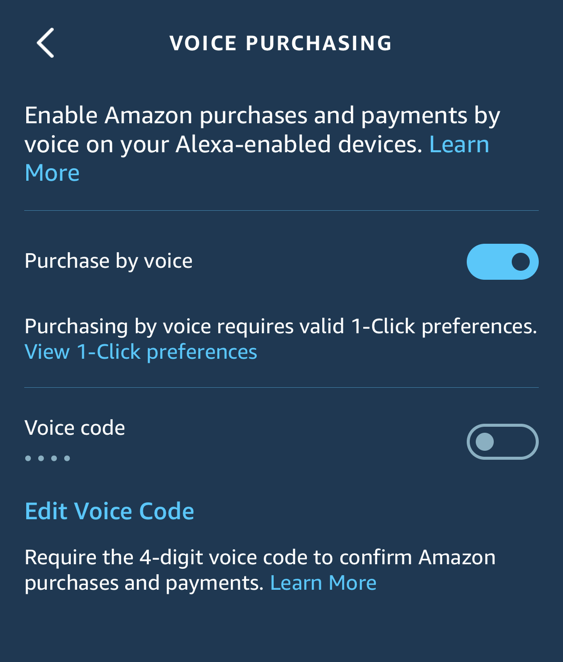 Notice that you can easily set a "Voice code" that is a 4-digit PIN code to verify voice purchases. But how long until one of your kids overhears you saying that code and busting it all wide open? Yeah, I have kids too, I know how it works 🙂
Anyway, that's it. You can enable or disable voice purchasing from Alexa, and you can set a PIN code if you want. Now it's up to you!
Oh, and while we're here, tap on Alexa Voice Responses on the Alexa Account menu screen and you can enable whispered responses. It's pretty slick:
Good luck with your Alexa and, perhaps more importantly, good luck with those rascally kids!
Pro Tip: I've written quite a bit about Alexa. Please check out my Alexa / Amazon Echo help while you're here. Thanks.