My Toshiba takes forever to boot, then when my PC is running, it's sometimes okay but other times is super slow. How can I speed up my WIndows 10 computer?
Ever come home from the grocery store and realize that you don't have enough space in your fridge for your purchases? Buy a bigger refrigerator and you'll still face the same problem however, because things have a tendency to expand to fill the available space. This is no different on a computer, so while it might boot up super fast and run great when you first purchase it, odds are good that it's running slow because of the additional software you've installed and are running.
If you don't want to go a digital austerity diet you can speed up your computer by buying more RAM memory. That's often a great way to speed things up, as is buying a newer, faster computer. But realistically, the best things to look at are the apps that are starting up when you're rebooting and the demands that your current apps place on the system.
Let's begin by looking at your Windows 10 startup apps. They'll probably surprise you!
Search for "startup apps"…
There's what you want to choose: "Startup Apps" within System Settings. Click or tap on that from the search results.
You can see that I have a bunch that launch every time I restart my computer, ranging from ExpressVPN to Hancom 2020 Office, Windows Security and even some sort of iTunes helper. Look more closely and you'll see that Windows assesses each, specifying "High impact", "Low impact" and "No impact". Of course, if they're disabled, they have no impact, right? 🙂
See where it says "Sort by: Name"? Change that to "Sort by Startup impact" so the most important ones are at the top of the list:
Now you can really see what's hitting your PC at startup:
Since I'm not working with Hancom Office, it's easily to disable the Hancom Update Tray ("HncUpdateTray") by clicking on the slider to switch from On to Off. iTunes Mobile Device Helper? That's another one I can disable since I don't use mobile devices that are paired to this PC.
If you aren't sure, disable it and if you don't notice a problem, you're probably good. Mostly, though, it's those High impact ones you want to turn off to speed up boot and speed up your PC overall.
While you're in this Startup area of System Settings, however, also click on "Apps & Features"…
Just in case some new software has crept onto your computer, this is where you can see what programs have been installed, sorted by date. Don't be anxious if some of the system apps seem oddly new (like "Get Help" above): if they are updated, that'll show the update date rather than the original install date. For me, "Dynamic Theme" is one that might be impacting my performance and it was installed just a few days ago.
You can uninstall an app from this point by clicking and then choosing "Remove". Be careful, though, lest you end up inadvertently removing an essential system app.
One more thing to check: Performance of apps you have running. That's done by going back to the Win10 search bar and searching for "memory usage":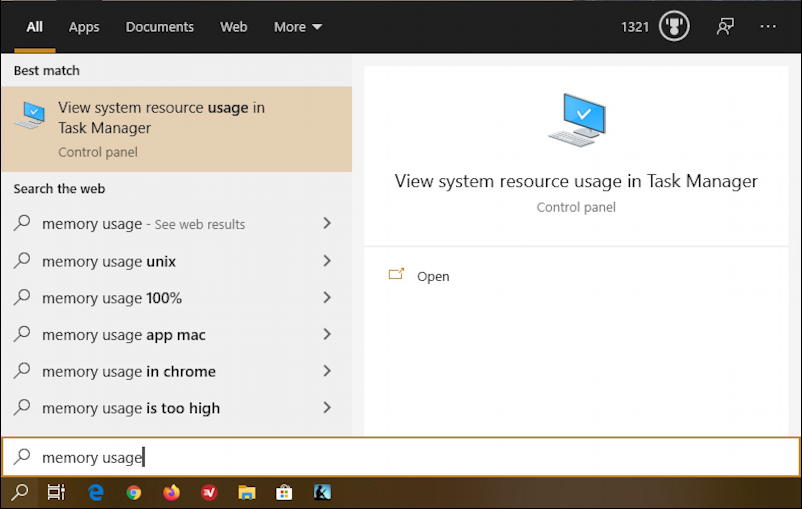 You want to launch Task Manager, as shown, so click or tap on that choice.
Task Manager is really helpful in identifying memory or CPU hogs. For example:
You can see that Firefox is the most greedy with memory, using 184MB of RAM right now. Google Chrome isn't far behind with its 151MB, though.
See something on the list you don't know? Often you can click on it and find out a bit more about the process, like "Antimalware Service Executable":
Okay, phew, it's part of Windows Defender. I think that's ok.
Click or tap on "CPU" and it'll show the apps by their processor demand: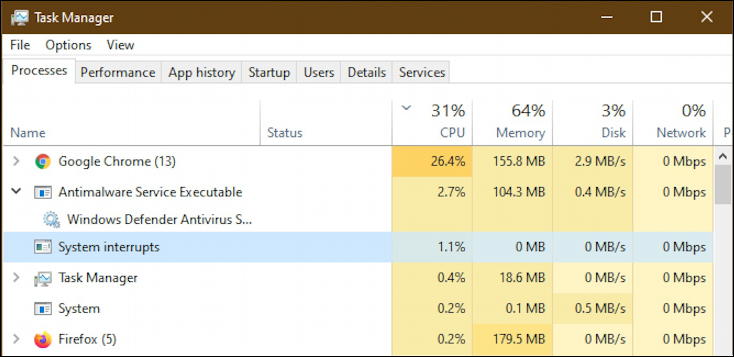 In this instance, you can see that Google Chrome is a big resource hog, using 26% of all processor resources on this PC. By contrast, Firefox is sitting idle, using barely any resources at all. It's an interesting tradeoff: Firefox uses more memory but less CPU and Chrome is the opposite.
Generally, you just want to keep an eye on what's consuming memory and CPU. If you have what you thought was a fun little toolbar extension, desktop clock or cursor kit and you see it using resources, might well be time to delete it and see if that helps your PC speed up.
Finally, keep your apps up to date and run Disk Cleanup every so often if you have a traditional hard drive (it won't work on SSD drives). Hopefully that helps you winnow down the apps and utilities that are placing demands on your PC during bootup and while you're using it, so things speed up!
Pro Tip: I've been writing about Windows since the early days. Please check out my Windows help library for lots of useful tutorials and how-to guides while you're here!