My school uses Canvas as our learning management system and I'm wondering if there's a way to specify that my preferred pronouns are they and them so classmates refer to me properly? At least, I hope Canvas supports being able to specify pronouns. Can you help?
While some people might bristle at the idea, I am all in favor of people choosing their pronouns and then asking others to refer to them respectfully by using those pronouns. Honestly, I can't think of anything easier. I mean, people don't just decide what your name should be based on their own criteria and if they ask your name, they don't then call you something else (unless they're rude, but that's another story). A significant percentage of the modern population gets this and seems to do just fine with names, gender identity, preferred pronouns, and the LGBTQ+ community. I certainly hope that as time passes the acceptance and support rate will just keep increasing.
Even better, software developers are getting savvy to this too, and software platforms as diverse as Facebook and LinkedIn are rolling out the ability for users to specify their preferred pronouns as part of their profile settings. As one of the premier learning management systems in K12 and higher ed both, Canvas LMS also has this feature now – which I'm sure you're happy to hear about! – though I cannot say whether it's something that the admins need to enable or not. Consequently, I'll show you how preferred pronouns can be specified in Canvas as used at the University of Denver (where I'm part of the faculty). If you don't see this as an option on your system, you'll need to email the administration to request it be enabled.
SPECIFY YOUR PREFERRED PRONOUNS IN CANVAS
What's a bit confusing about the way Canvas has implemented this feature is that if you aren't utilizing it, there's no "empty spot" that indicates it's available. For example, if I click on "Account" and look at my profile, there's no empty box or similar: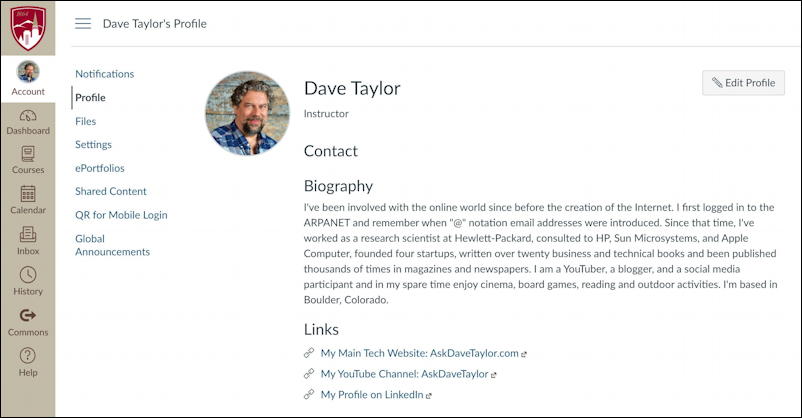 Specifying those pronouns of choice is pretty easy, however. Click or tap on "Edit Profile" to proceed and you'll move into the Canvas user profile editor (assuming, that is, that your administrators allow you to add a profile).
Between your Name and Title, a new field "Pronouns" should be visible: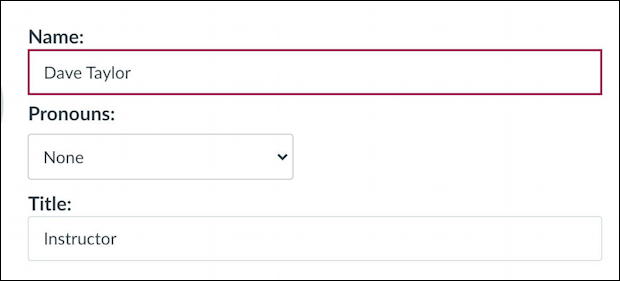 Again, this is all dependent on how things are configured by your Canvas administrators, so if this is not shown, email 'em and complain!
Assuming it's all good, however, a click shows the various Pronoun sets from which you can choose: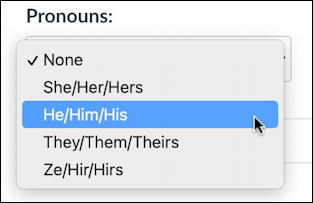 Interestingly, a close pal of mine has the preferred pronouns of xe/xyr/xem which isn't an option. Not sure how hard it is to add new ones to the list, but again, that's definitely the job of a Canvas admin, not something you can do yourself.
I'll choose "He/Him/His" for my pronouns and save the changes. Now my profile has those listed front and center:
That's how it's done. I hope you can find this option on your Canvas installation and change it to match your preferences too!
Pro Tip: I've been involved with online education and writing about online tech for years. Please check out my computer and Internet basics help area for tons more useful tutorials while you're visiting. Thanks!